South India Hotels / Resorts
Tamilnadu
Tamilnadu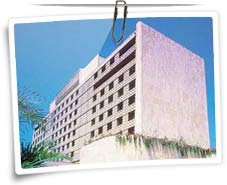 Greatly enriched with amazing tourist destinations, Tamil Nadu is the best holiday destination for those who have penchant for mesmerizing beaches, ancient temples, hill stations, enchanting wildlife, cuisine and natural beauty. Located ideally on the coast of the Southern India, Tamil Nadu is a 'paradise' for holidaymakers. Some of the tourist destinations of Tamil Nadu that make it a hit with tourists are Chennai, Kodaikanal, Mahabalipuram, Kanchipuram, Trichy, Madurai, Ooty, Tanjuvar, Kumbakonam and Rameshwaram. These cities of Tamil Nadu abound in captivating tourist attractions.
Tamil Nadu invites you to enjoy an unforgettable holiday experience. Feel its pleasant climate, breathe fresh air, meander through the meadows of wild flowers and apple orchards, treat your senses to the mysterious waves, pamper yourself with Ayurvedic massages and stay at the fascinating hotels offering state-of-the-art facilities and services. As far as recreational facilities are concerned, the hotels in Tamil Nadu have a lot to offer such as Ayurvedic massages, swimming pool, indoor games, safaris, sightseeing around the city and much more.
The beauty, location, hospitality and services of the well known hotels of Tamil Nadu never fail to impress their guests. Combining old-world charm with the modern day comforts, the accommodation options in the state are many in number. The shopping centers in the state are easily accessible from most of the hotels. Some of the known shopping destinations here are Tamil Nadu Emporium, Khadi Gramodyog Bhawan, and Raahat Plaza, Chennai.
Some Of The Best Hotels In Various Cities Of Tamil Nadu Are:
Famous Hotels In Chennai
The Taj Coromandel Hotel
Hotel Radisson
Chola Sheraton Hotel
Famous Hotels In Kodaikanal
Carlton Hotel
Club Mahindra Coakers Villa
Famous Hotels In Madurai
Famous Hotels In Mahibalipuram
Quality Inn MGM Beach Resort
Hotel Fisherman's Cove
Famous Hotels In Ooty
Famous Hotels In Trichy
Free Tour Customization
from Experts