Madhya Pradesh
Mahakaleshwar
Mahakaleshwar Temple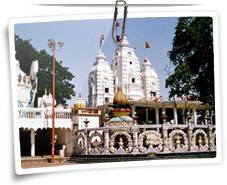 Situated in the 'city of Gods', Ujjain(Madhya Pradesh), Mahakaleshwar Temple is one of the twelve Jyotirlingas in India. The temple is an important pilgrimage site for the Hindus and is visited by many a devotees every year. Located ideally near a lake, the temple is dedicated to Lord Shiva. The temple also finds mention in the Puranas. The renowned poet Kalidas also mentioned this temple in his creations. It is an ancient temple with magnificent architecture. The ancient statues and sculptures adorning the walls of the corridors of the temple are quite notable. The complex of the temple also houses some of the ruined, ancient shrines.
The Mahakaleshwar Temple is a five-storied establishment. The main shrine is located underground, which enshrines the idol of the Swayambhu Mahakal Deity. The temple also enshrines the idols of other heavenly deities such as Lord Ganesha, Goddess Parvati, Kartikeya and Nandi bull. The lingam in the sanctum sanctorum of the temple is 'Swayambhu' meaning self-manifested. The  admiringly decorated roofs of the balconies of the temple, reflecting the Rajput style of architecture, attract the attention of the visitors.
The idol of Mahakaleshwar inside the temple is known as Dakshinamurti, meaning facing the South. Devotees can see the idol of Nagchandreshwar only on the day of Nagpanchami as it is open for darshan only on that day. During the Mahashivratri  festival the temple is decorated beautifully and a fair is held outside the temple. On the day of the festival, puja in honor of Lord Shiva is held throughout the night.
There is a wonderful attraction near the Mahakaleshwar Temple. It is the Theertam, which is known as Koditheertham. It is said that the color of the waters of this Theertham keeps changing.
How To Reach
By Air
Indore is the nearest airport located a a distance of 55 km from the Mahakaleshwar Temple.
By Rail
The railway station in Ujjain connects it with the major cities of India.
By Road
A good network of road connects Ujjain with the main cities like Delhi, Indore, Gwalior, Mumbai and Khajuraho.
Accommodation
Both government and private hotels are available in Ujjain.
Free Tour Customization
from Experts