Madurai Tour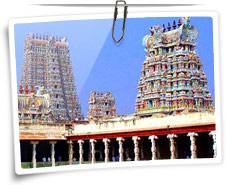 Applauded the world over for its legendary Meenakshi temple, Madurai is a holy town visited by tourists from across the globe. It is located on the banks of the river Vaigai in the state of Tamil Nadu. Proud of its rich cultural heritage, Madurai is believed to be established by the Pandyan King Kulasekara in the 6th century. Madurai is one of oldest cities of India and also the second largest city in Tamil Nadu. It is an important pilgrimage center for the Hindus.
Attractions of Madurai
Sri Meenakshi Sundareshwar Temple
The Meenakshi Temple is the most important attraction of Madurai. It is truly an architectural marvel whose history dates back to the 16th century. Later some of the structures in the temple were added by the subsequent rulers. The temple is dedicated to Lord Shiva and his consort Goddess Parvati. There are several small shrines within the boundary of the temple dedicated to many heavenly deities. The temple has twelve towers decorated with beautiful sudhai figures. The towering Gopuras(pyramidal gates) of the temple are also notable. The mesmerizing sculptures on the pillars leave the visitors enchanted. The temple remains open from 4:30 am to 12:30 pm and from 4:00 pm to 9:30 pm.
Potramarai Kulam
Potramarai Kulam is the holy pond located within the boundary of the Meenakshi temple. Devotees go around this pond before entering the main shrine. The literal meaning of Potramarai Kulam is the 'Pond with the Golden Lotus'. The Lotus that blooms in this pond has a golden color. 
Aayiram Kaal Mandapam or Thousand Pillar Hall
The Thousand Pillar Hall inside the temple boasts of elaborately carved pillars. The Hall was built by Ariyanatha Mudaliar in the year 1569. He was the Prime Minister and General of Viswanatha Nayak of the first Nayaka of Madurai (1559-1600 A.D.).   There is a statue of  Ariyanatha Mudaliar at the entrance of this mandapam.
Festival
The Meenakshi Thirukalyanam(the divine marriage of goddess Meenakshi) festival is celebrated with great joy and enthusiasm in the Meenakshi Temple. This festival is held in April every year. Devotees from far and wide come to the temple to participate in the festival.
How To Reach
By Air
The airport at Madurai connects it with cities like Mumbai and Chennai.
By Rail
Madurai is well connected to cities like Bangalore, Coimbatore, Kollam, Chennai, Rameshwaram, Thanjavur, Tirupati and Tuticorin by rail.
By Road
Madurai is easily accessible to almost all the main cities of South India by road.
Free Tour Customization
from Experts