Madumalai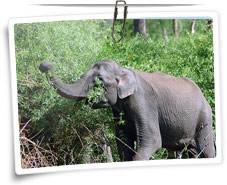 Madhumalai is located in Tamil Nadu and is a wonderful place to visit. Madhumalai is famous for its scenic beauty and wildlife, which make it an important part of the itineraries of tourists who come here from across the world. Madhumalai means old hills.Attraction Of Madhumalai
The biggest and the most famous tourist attraction of Madhumalai is its rich flora and fauna.
Mudhumalai Wildlife Sanctuary
Mudhumalai Wildlife Sanctuary is the proud home to around 600 elephants, which fascinates one and all. Located in the state of Tamil Nadu, Mudhumalai Wildlife Sanctuary is one of the famous sanctuaries of the state. Home to a diverse range of flora and fauna, the sanctuary is sandwiched between the Bandipur and Annamalai sanctuaries. These three contiguous sanctuaries combine to form the Nilgiri Biosphere Reserve. Sprawling over an area of 321 sq km, the sanctuary is located at an elevation of 1000 m. It was established as a wildlife sanctuary in the year 1940.
The Western Ghats, Nilgiri Sub-Cluster, including all of Mudumalai Wildlife Sanctuary, is under consideration by the UNESCO World Heritage Committee for selection as a World Heritage Site.
Best To Visit
From March to June
The Flora In The Mudhumalai Wildlife Sanctuary
The flora in the sanctuary consists of tropical moist deciduous vegetation. Some of the vegetation found here are: Bamboos, Natural teak, Anogeissus latifolia, Terminalia, Crenulata/Terminalia Tomontosa, Grewia, Indian Labumusum, Aredesia, Solanancea etc .
The Fauna In The Mudhumalai Wildlife Sanctuary
The sanctuary shelters amazing variety of mammals and avian species. Some of the inhabitants(mammals) of the sanctuary are Asian Elelphants, Barking deer, Musk deer, Gaur(Indian Bison), Sloth Bear, Giant Squirrel, Sanibar, Spotted Dear, Chowsingha, Indian Pangolin, Leopard, Wild Dog, Rusty Spotted Cat, and Striped necked Mongoose. Changeable Hawk Eagle, Black Eagle, Oriental Honey-buzzard, Jerdon's Baza, Bonelli's Eagle, Crested Goshawk, Besra, Mottled Wood Owl, Brown Hawk Owl are a few avian species to name, found in the sanctuary.
Other Interesting Tourist Attractions Near Mudumalai are:
The Elephant Feeding Camp
It is a paradise of elephants where you can see them engrossed in various activities.
The Museum
Located in close proximity to the Elephant Feeding Camp, the Museum houses the preserved dead animals, which once thrived in the Mudumalai forests.
Moyar River
Passing through the dense forests, the Moyar is a beautiful river which attracts many animals and is a promising site for sighting wildlife.
Elephant Safari and Van Safari
You can enjoy both Elephant Safari and Van Safari conducted by Tamil Nadu Forest
Department.
Kallatty Falls
It is an awe-inspiring waterfall with pleasant surroundings located 30 km from Mudhumalai Safari Office.
How To Reach
By Air
The nearest airport is located in Coimbatore, Bangalore (Karnataka).
By Rail
The nearest railway stations are located in Ooty, Mysore and Coimbatore.
By Road
Mudumalai is well connected to the tree south Indian states- Karnataka, Tamil Nadu and Kerala.
Accommodation
Accommodation is easily available in Mudhumalai. Some of the best resorts near the Mudumalai wildlife Sanctuary are Jungle Retreat, Blue Valley Jungle Resorts, The Monarch Safari Park, Casa Deep Woods and Safari Land Resorts.
Free Tour Customization
from Experts