Ex-Mumbai / Pune
Hill Stations
Jawhar
Jawhar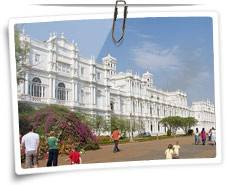 Famous Tribal Kingdom
Earlier a princely state of the Munke dynasty during the British rule, Jawahar evolved as the natural home to Worli tribes. This small hill station in Thane district is located 80 km from Nasik. Perched at an altitude of about 518 metre, Jawahar enjoys a pleasant climate throughout the year.
It is highly enriched with natural beauties and man made marvels. This picturesque hill station is set amidst dense green trees and cascading waterfalls. The entire region is blessed with exotic valleys, thick rich forests and pleasant climate.
Prime Attractions
Jai Vilas palace and Bhupatghad Fort are the prime attractions at Jawahar. These were the residential palaces of the erstwhile rulers of Jawahar. Today, they showcase the lively culture of Worli tribes. These age old monuments are popular for their majestic rooms and attractive architectural patterns.
Shirpamal is also at a close proximity to Jawahar. Historical evidences show that Chathrapathi Shivaji, great Maratha King, set his camp at Shirpamal during his tour to Surat.
Jawahar has a number of unspoiled and unexplored waterfalls that are perfect for relaxing holidays. Dadar-Kopra falls and Palusa are the two most scenic waterfalls that are located amidst lush greeneries.
The Sunset point and Hanuman point are located over the hills, which offer beautiful panoramic view of the entire valley.
Shopping
Jawahar is renowned for its lively and colourful Worli paintings, made by the local Worli tribes.
How To Reach
By Air
Nasik (80 km) is the nearest airpirt.
By Rail
Igatpuri (61 km) is the nearest railhead. Besides, Nasik and Dahanu are the two other convenient railheads that are connected to the major parts of India.
By Road
Jawahar is easily accessible by bus or taxi from Mumbai (180 km), Nasik (80 km), Kasa (39 km) and Trimbakeshwar (56 km).
Free Tour Customization
from Experts