Ex-Delhi
Cultural / Heritag
Jodhpur
Jodhpur Tour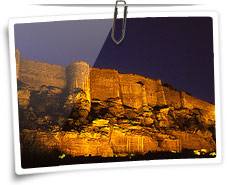 The Sun City
Situated at the edge of the Thar Desert, Jodhpur welcomes you to visit fabulous forts and palaces and the rich history of the Mughals and the Marathas. This second largest city of Rajasthan is considered one of the most sought after tourism spots in India. Also known as the "Sun City", Jodhpur was founded by Rao Jodha, chief of the Rajput clan in 1459.
With Nagaur on the eastern side, Jaisalmer on its west, Bikaner on its north, and Barmar, Jalor and Pali on its south, Jodhpur is located at the center of the state of Rajasthan. It has witnessed the violent rivalry between the Mugals and the Marathas.
Jodhpur is known for its several unique food items such as Makhaniya Lassi (a drink made with curd and sugar), Mawa Kachori, Pyaaj Kachori and Mirchibada (a hot and spicy food).
Festivals
Jodhpur celebrates its festive occasion with enthusiasm and full vigor. Marwar Festival is a local celebration which depicts the traditional folk music, folk dance and folklore of Rajasthan. This two-day festival offers wonderful opportunities to have a glipmse of the true Rajasthani culture.
Besides, Nagpanchami (the worship of the king of the serpents), is also celebrated with enthusiasm. It is also famous for traditional art forms and tasty delicacies.
Prime Attractions
Mehrangarh Fort, with an area of 5 sq km, boasts of being one of the largest forts in India. The fort, with its seven gates, is perched at an altitude of about 125 metres. Age old Jodhpur sculptures can still be seen inside the fort. Mehrangarh (literally meaning 'Majestic Fort') was built in 1806 it still preserves a unique collection of musical instruments, palanquins, furniture and cannons.
Umaid Bhawan Palace is built with the local chittar sandstone, and therefore is also called 'Chittar Palace'. The palace was built under a famine relief project to provide employment to people for 16 years. The palace has theatre, 8 dining rooms, a ball room, and a banquet hall which can accommodate up to three hundred people. It has been converted into a heritage hotel and a part of it has been retained as a museum.
Fort Chanwa Luni is quite close to Jodhpur. Constructed by Kaviraj Muraridanji, a minister in the court of Maharaja Jaswant Singh II, the fort is a perfect piece of Indian architecture. Intricate carvings on the windows or jharokas, and latticeworks on the stairways, corridors, secret rooms, passages, towers, courtyards, stables, etc. provide a fascinating view.
Raj Ranchhodji Temple is a marvellous piece of architecture in red sandstone, carved with beautiful filigree work. Built by queen Jadechi Rajkanwar (wife of king Jaswant Singh), the temple has a black marble statue of Ranchhodji.
Achal Nath Shivalaya was completed in 1531. Dedicated to Lord Shiva, the temple was constructed by Nanak Devi, queen of Rao Ganga. A large water reservoir 'Bawari' is made near the Shivlinga.
Shopping
Sojati Gate, Station Road, Tripolia Bazaar, Mochi Bazaar, Nai Sarak, Clock tower, Sarafa Bazaar, Sadarpura Market are the popular market areas of Jodhpur. These markets offer a wide variety of Bandhini (tie and dye fabric), Footwear (mainly embroidered jutis), Utensils, Leather items, Handicrafts, Lac works and Bangles, Handlooms, Spices and several other antique items.
ommodation
Jodhpur is a renowned tourist destination. One can find hundreds of accommodation units ranging from star rated hotels to budget/economy hotels and resorts. RTDC also runs several hotels in Jodhpur.
Getting There
By Air
Jodhpur Airport is 5 km from the city and it offers regular flight services connecting Delhi, Mumbai, Udaipur, Jaipur and other major cities of India.
By Rail
Jodhpur is well connected by rail to other parts of Rajasthan and important cities and towns of India like Delhi, Mumbai and Jaipur. The 'Palace on Wheels' also visits this city of royal splendor.
By Road
Jodhpur is well connected to almost all the cities of Rajasthan and North India by National Highways and small roadways. For example, the main highway between Jodhpur and Jaisalmer is via Agoli and Pokaran. The highway is well connected with Agra, Ahmedabad, Ajmer, Delhi, Jaipur, Jaisalmer and Udaipur by bus.
Free Tour Customization
from Experts