Ex-Delhi
Cultural / Heritage
Jaisalmer
Jaisalmer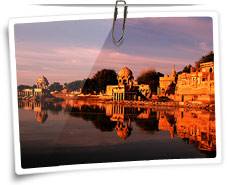 The Golden City
Golden sands, camel safaris, magnificent palaces, ancient imposing temples and havelis form the identity of the exotic Jaisalmer. The city is known for its rich historical value. Located 285 km from Jodhpur, the city was earlier used as an importanr trade route between India and other Asian countries.
This fantastic city was founded by Rawal Jaisal of the Yadav community and therefore the city was named after him only. Situated at an altitude of 793 meters, Jaisalmer serves as a wonderful tourist spot in India. The best season to visit Jaisalmer is between October and March.
Attractions
Desert Festival
This three day annual festival is a real eye feasting event in Jaisalmer. It offers a glimpse of the royal past and affluent cultural heritage of the region. Traditional folk dances, traditional songs and various competitions set the deserted land of Jaisalmer on fire.
Jaisalmer Fort
This majestic fort showcases the talent of the artisans of Jaisalmer. Three exquisitely sculptured Jain temples are present inside the fort. The fort exhibits typical Indian architecture and preserves a few antiques of the kings.
Gadsisar Lake
This lake serves as an ideal picnic spot and offers opportunity for boating. This is basically a rain water lake, which adorned with an arched gateway. One can find a number of small shrines and temples festooned all around the lake.
Salim Singh-ki-Haveli
With blue roof and rows of peacocks below the arched balconies, the haveli is truly a piece of rich architectural wealth in Jaisalmer. It was once the residence of the Mohta family, the ministers of Jaisalmer rulers.
Besides, Patwon-ki-Haveli and Nathmalji-ki-Haveli are two other beautiful royal residences.
Jain Temples
Amazingly designed Jain temples, dedicated to Rishabdevji, Sambhavnathji and Parshvanathji are among the favourite tourist attractions in Jaisalmer. Out of these three, the Parshvanathji Temple is the oldest and the most beautiful one. One can see several human and animal figures carved on the walls of its sanctum and the rising dome (shikhar) is crowned by an amalak and a waterpot containing a lotus flower.
Gyan Bhandar
It is a huge library, built inside the Jain temples, and it has a rarest collection of some of the oldest manuscripts of India.
Shopping
People coming to Jaisalmer often buy woven jackets, tie-dyed cloth, wooden boxes and ornaments, camel-leather slippers (jhoolis) and Western-style clothes. Puppets are the specialty of Jaisalmer.
How To Reach
By Air
Nearest airport is in Jodhpur (285 km).
By Rail
Jaisalmer lies on a broad gouge line that connects it to all the major parts of the country.
By Road
Jodhpur is easily accessible from all the major cities of the state as well as the country, including Udaipur, Jaipur, Ahemdabad, Delhi etc..
Free Tour Customization
from Experts