Ex-Delhi
Cultural / Heritage
Orchha
Orchha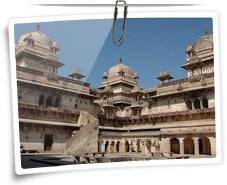 The Grandeur Of The Bundela Kings Captured In Stone
Dotted with numerous temples and palaces, Orchha narrates the Bundela stories of war, peace, love and destruction. This small yet interesting town is situated on the banks of River Betwa in the northern part of Madhya Pradesh in Tikamgarh district. The town is known for its grand palaces and temples that are supposed to be the best examples of Indo-Islamic architecture.
Most of these monuments were built between the 16th and 17th century. Orchha, founded in 1501 AD by the Bundela King Rudra Pratap Singh, lies on the banks of the Betwa River, 16 km. from Jhansi in Uttar Pradesh. This beautiful town is situated on the road from Gwalior to the famous temple city of Khajuraho.
Sightseeing At Orchha
Raj Mahal
Raj Mahal boasts of being one of the oldest historical monuments in the region. Being the palace of the Orchha King, Raj Mahal is famous for its chhatris (cenotaphs) and exquisite murals (wall paintings). There are separate rooms for the king, the guests and the king's harem.
Jahangir Mahal
It is a token of friendship that prevailed between the Mughals and Bundelas for a long time. With a typical Islamic architecture, two bowed elephants on each side of the main entrance and numerous multi-storeyed balconies, the Jahangir Mahal is supposed to be the best piece of architecture in Orchha.
Rai Parveen Mahal
Named after a royal poetess and dancer Rai Parveen, this fort was built by the king Indramani who used to come here after a stressful day's work. This small, two-storeyed palace is mostly in ruins now.
Temples
Ram Raja Temple
Built in a palace complex, this temple is the only place in the country where Rama is worshipped as a king. The idol of Rama was brought here from Ayodhya. Built by king Madhukar Shah, this is the most revered temple at Orchha.
Chaturbhuj Temple
Built on a high platform, this temple was was originally built to house the idol of Lord Rama. The temple also offers splendid views of the nearby surroundings.
Lakshmi Narayan Temple
Located on a higher stone platform, Lakshmi Narayan Temple exhibits the architecture with the royal taste of ethnic India. The temple has several beautiful paintings, out of which a few belong to the post-mutiny era.
Shopping
Orchha is dotted with traditional shops and markets. One can buy gift items such as  mementos, souvenirs and showpieces including the metal items of Dokra, articles of wrought iron, Bundela paintings etc.
How To Reach
By Air
The nearest airports to Orchha are Gwalior (120 km) and Khajuraho (178 km).
By Rail
Jhansi (16 km) is the nearest airport that is connected to almost all the major cities of India including Delhi, Gwalior, Agra, Bhopal, Varanasi etc.
By Road
Orchha lies on the Jhansi-Khajuraho road. Regular bus service connects Orchha with Jhansi and other parts of the country.
Free Tour Customization
from Experts