Ex-Delhi
Cultural / Heritage
Jaipur
Jaipur Tour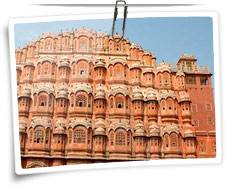 Rajasthan's Colorful Capital
Surrounded by rugged hills from three sides, Jaipur is popularly known as the Pink City. This historical city was founded by the great king Sawai Jai Singh of the Kachhawaha clan in 1727 AD. The word 'Jaipur' literally means 'the city of victory' in Hindi. Located about 260 km from Delhi and about 235 km from Agra, the city was designed by the brilliant Bengali architect Shri Vidyadhar Bhattacharya.
Jaipur is considered as one of the most important tourist destinations of India because of impressive monuments, excellent range of handicrafts, wide variety of cuisine, and the royal art and culture. Jaipur exhibits vibrant colours in its every element including forts, havelis bazaars, music and dance etc. The true culture of Jaipur can be felt during the occasions like Banganga Fair, Sheetla Mata Fair, Teej Festival, Gangaur Festival, Elephant Festival, and Kite Festival.
Major Attractions
City Palace & Maharaja Sawai Man Singh II Museum
City Palace or Chandra Mahal is known for a rich collection of Mughal carpets, Mughal and Rajasthani miniature paintings, arms and weapons, rare manuscripts, royal costumes and textiles, etc.
Hawa Mahal
Constructed by the King Sawai Pratap Singh, Hawa Mahal is situated inside the City Palace. The prime attraction of this architectural beauty lies in its 953 pink sandstone windows or 'jharokhas'.
Jaigarh Fort
This is the most magnificent hilltop fort of the city. Popular as the fort of victory, it has several palaces, a granary, a well-planned cannon foundry, temples, a tower and Jai Ban (the largest cannon in the world).
Amber Fort
Amber Fort is a unique blend of Hindu and Mughal architectural patterns. Built in red sand stone and white marble, this fort is located 11 km from Jaipur. Amber Fort is decorated with paintings, precious stones and mirror settings.
Major Pilgrimage Centres
Lakshmi Narayan Birla Temple
Dedicated to Lord Vishnu and Goddess Laxmi, the temple draws lakhs of devotees throughout the year Built in white marble, the temple is located near the Moti Doongri fort. Birla temple has three domes that represent different approaches to religion.
Govind Dev Ji Temple
This temple is basically a part of the City Palace. Devoted to Shri Govind Dev Ji (an incarnation of Lord Krishna), the temple is still well preserved by the royal family.
Galtaji
Galtaji is an ancient pilgrimage centre that has a number of temples, pavilions and holy kunds (natural spring and water tanks).
Kanak Vrindavan
Basically a beautifully landscaped garden, Kanak Vrindavan is famous for a temple, made up of beige stone and carved marble columns and lattices. Situated in the foothills of Nahargarh hills, Kanak Vrindavan has Jal Mahal in its backdrop.
Shopping
Not only a sightseeing pleasure, Jaipur is also a shopper's paradise. One can visit places like Rajasthali, Johari Bazaar, MI road, Nehru Bazaar, Bapu Bazaar, etc. to buy various traditional items. Jaipur is famous for Jewellery, Gems and semi precious stones, Kundan work (setting precious stones in gold), Minakri work (enamel work on gold), Hand block printed textiles, Tie-dye fabrics, Miniature paintings, Kota doria saris, Enamelware, Brassware, Woolen carpets, Cotton rugs and, Leather footwear and embroidered Jutis in Jaipur.
How To Get There
By Air
Sanganer Airport (10 km) is the nearest airport from Jaipur city. It operates domestic flights to Delhi, Kolkata, Mumbai, Ahmedabad, Jodhpur and Udaipur along with an international flight to Dubai.
By Rail
Jaipur Railway Station is well connected to all the major cities of India.
By Road
Jaipur, being the capital city of Rajasthan, is easily accessible by road from all the major parts of India.
Free Tour Customization
from Experts