Ex-Delhi
Wildlife
Ranthambhore
Ranthambore National Park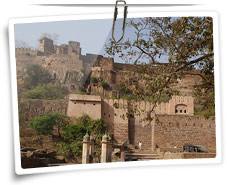 The Celebrated And Royal Wildlife Destination Of The World
If you are highly interested in sighting the Royal Bengal Tiger, then Ranthambhore National Park offer great chances. This Park is one of the largest and famous National Parks in the world. It is located in the Sawai Madhopur district in the state of Rajasthan. The Park was founded as the Swai Madhopur Game Sanctuary in the year 1955 by the Government of India and later in 1973 it was declared a Project Tiger Reserve.
Ranthambhore National Park has a vegetation consisting of dry and deciduous shrubs, which makes the sighting of the tigers easy. For jeep safaris there are good network of tracks inside the Park. However, you need to be very careful during your jeep safaris as the wild animals run away as soon as they sense the jeeps. Apart from the Royal Bengal Tiger, the Park houses wildlife species such as Antelopes, Nilgai, Sambhar, Chital, Chinkara, Porcupines and Jackals, Leopard, Jungle Cat, Indian Hare, Mongoose and Monitor Lizards, wild pig and dhole. One of the largest Banyan tree is located in this Park.
Also keep a look out for Snub Nosed Marsh Crocodiles, Desert Monitor Lizards, Tortoise, Banded Kraits, Cobras, Common Kraits, Ganga Soft Shelled Turtles, Indian Pythons, North Indian Flap Shelled Turtles, Rat Snakes, Russel's Vipers, Saw-scaled Vipers and the Indian Chamaeleon, which are also the inhabitants of the Park.
Sprawling over an area of 400 sq km, Ranthambhore National Park shelters around 272 avian species, some of which are Graylag Goose, Woodpeckers, Indian Gray Hornbills, Common Kingfishers, Bee Eaters, Cuckoos, Parakeets, Asian Palm Swift, Owl, Nightjars, Pigeon, Dove, Crakes, Snipes, Sandpipers, Gulls, Terns, Great Crested Grebe, Eagles, Darters, Cormorants, Egrets, Herons, Bitterns, Flamingos, Ibis, Pelicans, Storks, Pittas, Shrikes, Treepies, Crows, Orioles, Cuckoo-Shrikes, Minivets, Drongos, Flycatchers, Ioras, Wood Shrikes, Pipits, Bayas, Sparrows, Finches and Wagtai.
Must-visit Places in Ranthambhore National Park:
Bakaula
This place has numerous water holes and thick vegetation offering chances of  wildlife sighting.
Kachida Valley
It is a beautiful valley known for its rocky outcrops and low hills.
Raj Bagh Ruins
Raj Bagh Ruins are the interesting structures where you might even sight a tiger. It also reminds of the glorious past of Rajasthan.
Padam Talao
This is the largest lake of the Park. There is a beautiful palace named Jogi Mahal located at the corner of the lake.
Rajbagh Talao
It is a fabulous lake.
Malik Talao
It is a small lake which is a promising site for wildlife sighting.
Ranthambhore Fort
Located ideally on a hill offering excellent views of the Park, Ranthambhore Fort is worth a visit.
Best Time To Visit
From October to June
Accommodation
Wonderful accommodation options are available in and around Ranthambhore National Park.
How to reach
By Air
Jaipur is the nearest airport located at 130 km from the Park.
By Rail
Sawai Madhopur is the nearest railway station located at a distance of 11 km from the Park.
By Road
The Park is well connected to the major cities of Rajasthan by road.
Free Tour Customization
from Experts