Pench National Park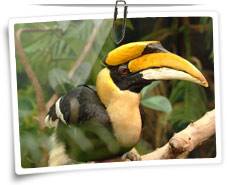 The Land Of Enchanting Creatures
Pench National Park is another famous wildlife destination of India, which invites tourists to experience the wilderness of nature at its best. Popular for its enchanting creatures, tigers, the Park sprawls over an area of 275 sq km, out of which 10% part of the Park is in Maharashtra and 90% region of the Park is in Madhya Pradesh. The vegetation of the Park consists of the deciduous forests. The Park was declared a reserve forest in the year 1929 and was declared a wildlife sanctuary in 1977. The title of a National Park was conferred on it in 1983 and later the Park was declared the Project Tiger in 1992.
The Park is blessed with a remarkable population of wildlife species. The Park is a home to around 39 species of mammals, 13 species of reptiles, 3 species of amphibians and 210 species of birds.
Some of the appealing avian species spotted here are the barbet, bulbul, minivet oriole, wagtail, munia, myna, malabal pied hornbill, collared scops, owl, waterfowl and blue kingfisher. Some of the intriguing mammals found here are cheetal, sambar, nilgai, wild pig, tiger, leopard, jungle cat, leopard cat, striped hyena, wild dog, wolf, sloth bear, pangolin and the mighty Indian gaur.
Jungle Safaris
Browse through the Pench National Park either on an elephant safari or a jeep safari.
Best Time To Visit
From November to March
Accommodation
Although there are several other hotels near the Park but the best one is the Kipling's Court. And in case you want to live inside the jungle then Pench Resort inside the Park is an amazing accommodation option available here.
How To Reach
By Air
Nagpur is the nearest airport, which connects the Park with the major cities like Delhi, Nagpur and Mumbai.
By Rail
Nagpur is the nearest railway station connecting the Park to the main cities of Madhya Pradesh.
By Road
The Park is connected to almost all the major cities in Madhya Pradesh by road.
Important Information
Park charges include Entry fee : Rs. 60 (Indians) & Rs. 500 (foreigners), Vehicle : Rs. 1000/trip, Vehicle entry : Rs. 150/trip, Guide : Rs. 75/trip, Camera : Rs. 25 (still) & Rs. 300 (video), Elephant ride : Rs. 100 (Indians) & Rs. 600 (foreigners) .
Avoid wearing gaudy clothes and strong perfumes inside the Park.
Abide by the instructions given by your guide.
Early morning safaris are more rewarding in comparison to the evening ones.
Do not pollute the environment of the Park.
Free Tour Customization
from Experts