Ex-Delhi
Wildlife
Bharatpur
Bharatpur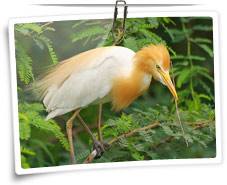 Keoladeo Ghana National Park
Location: Bharatpur, Rajasthan
Main Attractions: Migratory birds
Other attractions: Bharatpur Palace, Lohagarh Fort, Deeg Palace.
Best time to visit: From October to March
Best sites for wildlife sighting: The water bodies
Nearby Destinations: Jaipur, Alwar, Ajmer, Delhi,and Agra.
Renowned the world over as a 'Bird's Paradise', Keoladeo Ghana National Park is a national park located in Bharatpur in the wonderful state of Rajasthan. Earlier the Park used to be known as the Bharatpur Bird Sanctuary. The Park is a World Heritage Site and is considered as one of the best National Parks of Asia. The history of the Park dates back to 250 years ago. It derives its name from a Shiva temple located in its boundary. The Park was once the hunting ground of the Maharajas of Bharatpur.
Sprawling over an area of 29 sq km, Keoladeo Ghana National Park is a home to a diverse array of avian species, including the endangered ones. Migratory birds such as the endangered Siberian Cranes make this Park their temporary home during the winters. There are around 230 species of birds in the Park. The sight of these colorful and beautiful birds is a great experience. The Park attracts tourists and ornithologists from across the globe. Some of the migratory birds at Keoladeo Ghana National Park include several species of Cranes, Pelicans, Geese, Ducks, Eagles, Hawks, Shanks, Stints, Wagtails, Warblers, Wheatears, Flycatchers, Buntings, Larks and Pipits, etc. Animals found here are Golden Jackal, Striped Hyaena, Fishing Cat, Jungle Cat, Nilgai, Sambar, Blackbuck and Wild Boar. Keoladeo Ghana National Park also provides shelter to a wide variety of mammals and reptiles.
When you go for wildlife safaris in Keoladeo Ghana National Park, don't forget to take your binoculars along. Visitors can also enjoy boating in the Park.
How to reach Keoladeo Ghana National Park
Air
The nearest airport is at Agra.
Rail
Bharatpur is well connected to Agra, Delhi, Jaipur and Mumbai by rail.
Road
Buses and taxis are easily available here, which connect the Park with the  major cities of Rajasthan and other neighboring places like Delhi, Uttar Pradesh, Haryana and Agra.
Accommodation In And Around Keoladeo Ghana National Park
A wide variety of accommodation options are available in and around the Keoladeo Ghana National Park. From luxurious heritage hotels to budget hotels, all are available here. Some of the famous accommodation options are Bharatpur Forest Lodge(inside the Park) and Laxmi Vilas Palace(outside the Park).
Free Tour Customization
from Experts