Ex-Delhi
Wildlife
Kanha National Park
Kanha National Park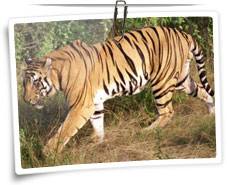 The Royal Abode of Tigers
Kanha National Park is one of the most popular National Parks of India, where tourists come with a 'cherished hope to see a tiger' and most of them are obliged. Kanha National Park, also a Tiger Reserve, is located in the Mandla and Balaghat districts of Madhya Pradesh.Covering an area of 940 sq km, the Park was established in the year 1955. It is famous for its notable population of the Royal Bengal Tiger and Leopards.
Flora In Kanha National Park
The topography of the Kanha National Park embraces lowland forests, which comprises of sal and other mixed forest trees, interspersed with meadows. Whereas the highland forests consists of moist dry deciduous forests. Tourists can also treat their eyes to an astonishing Indian ghost tree(kullu) in the forests of the Park. The Park is dotted with meadows. There are several aquatic plants thriving in the lakes of the Park.
Fauna In Kanha National Park
Kanha National Park has a significant tiger population. There are around 130 tigers in the Park. The other wildlife species in the Park are leopards, sloth bear, Indian wild dog, Indian wolf, spotted deer, sambar, barasingha(swamp deer), black buck, nilgai(blue bull), barking deer, porcupine, Gray langurs, mongoose, hyena, Jungle cat, wild pig  etc.
Kanha National Park is rich in Bio-diversity and offers ample opportunities to sight a variety of wildlife. According to the records, the Park has around 175 varieties of the avian species. The sights of the colorful and beautiful birds is quite overwhelming.
Wildlife Safari In Kanha National Park
Kanha National Park offers exciting opportunities to mount the elephants and embark on a search for wildlife species. Jeep safari is the other option available.
Kanha Museum In Kanha National Park
One of the striking features of the Kanha National Park is its museum. It showcases the tribal culture of Madhya Pradesh. It also helps in acquainting oneself with the topography of the Park.
Bamni Dadar
It is an exciting spot in the Park, which is famous for breathtaking views of sunsets. It is also a place where some of the inhabitants of the Park can be easily sighted.
Best Time To Visit
The best time to visit the Kanha National Park is from April to June and November to January. The Park remains closed from July to Mid November.
How To Reach
By Air
The nearest airport is Nagpur located at a distance of 266 km from the Park.
By Rail
Jabalpur is the nearest railway station located 169 km from Kanha.
By Road
Kanha National Park is well connected to the major cities of Madhya Pradesh by road.
Free Tour Customization
from Experts