Ex-Delhi
Wildlife
Bandhavgarh
Bandhavgarh National Park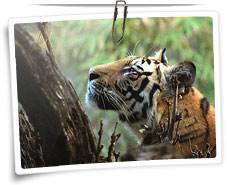 Famed For The Royal Bengal Tiger
Famous the world over for its wildlife species, Bandhavgarh National Park is located in the Umaria district of Madhya Pradesh. Tourists from all over the world come here to treat their senses to the sights of a wide variety of wildlife. Covering an area of 105 sq km, the Park is set at the Vindhya hills. The topography of the Park include steep ridges, dense forest and open meadows. The Park was declared a National Park in the year 1968. The word Bandhavgarh means 'Brother's Fort'. The Park was once the hunting ground of the Raja-Maharajas of Rewa.
Bandhavgarh National Park is an abode of the Royal Bengal Tigers. The Park has the highest tiger population in India. The striking attraction of the Park is its white tigers. In fact, white tigers were first discovered in Rewa. The Park houses around 22 species of mammals and 250 species of birds. Some of the dwellers of the Park are  the Asiatic Jackal, Bengal Fox, Sloth Bear, Ratel, Gray Mongoose, Striped Hyena, Jungle Cat, Leopard and Tiger. The artiodactyls frequently sighted are Wild Pigs, Spotted Deer, Sambar, Chausingha, Nilgai, Chinkara and Gaur, Dhole, Small Indian Civet, Palm Squirrel and Lesser Bandicoot Rat.
The Park also harbors a wide variety of avian species. Some of the species sighted here are white browed fantails, steppe eagles, green pigeons, grey malabar hornbills, black and white malabar hornbills (quite a rare sighting), blossom headed parakeets, parakeets, blue bearded bee eaters, green bee eaters, white bellied drongos, owls, Jerdon's and gold fronted leaf birds, minivets, woodshrikes and paradise flycatchers.
Visitors can enjoy elephant safari or jeep safari in the Park. Don't forget to take a Forest Department guide with you to make your wildlife safari more fruitful.
Best Time To Visit
From November to June as it is the most promising season for tiger sighting. The Park remains closed from July 1 to September 30.
Accommodation
There are several accommodation options available in and around Bhandhavgarh. From luxury hotels and luxury camps to budget hotels to rooms offered by the local people, all are available here. The heritage hotel, which was once the royal residence of the royal Rewa family is another option available for the ones who want to experience both wilderness and royalty of Bandhavgarh.
How To Reach
By Air
Khajurao is the nearest airport located at a distance of 230 km from the Park, which is connected to cities like Delhi, Agra and Varanasi.
By Rail
Umaria is the nearest railway station.Another railway station is Santa on the Bombay-Howrah main line of the Central Railways.
By Road
The Park is well connected to cities like Rewa, Santa, Katni and Umaria by road.
Experience the wilderness of Bandhavgarh!
Free Tour Customization
from Experts