Ex-Mumbai / Pune
Religious Destinations
Kolhapur
Kolhapur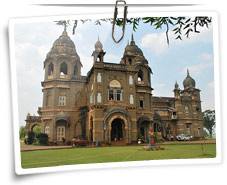 Once the adobe of the Raja-Maharajas, Kohlapur leave its tourists spell bound with its amazing monuments holding great historic importance. These monuments reflect the rich architectural heritage of Kolhapur. Located in the state of Maharashtra, Kolhapur occupies an important part of the itinerary of tourists coming to Maharashtra. Kolhapur is an ancient city popular for its temples, cuisine, headwear, footwear and jewelery.
The first ruler of Kolhapur had contributed a great deal to the architectural heritage of the place. During his reign several magnificent establishment such as temples, forts, palaces were built.
Attractions Of Kolhapur
Rankala Lake
Rankala is a dazzling lake offering a peaceful environment. A famous picnic spot, Rankala Lake is an artificial lake built by Maharaja Shri Shahu Chhatrapati.
Mahalaxmi Temple
Built in honor of Goddess Mahalaxmi, the consort of Lord Vishnu, the Mahalaxmi Temple is one of the Shakti Peethas in the country. It is believed that the Lord Vishnu resides here with the Goddess.
New Palace
It is a majestic palace reflecting the perfect blend of the Jain and the Hindu style of architecture. Its history dates back to the year 1884. Some Portion of the Palace still serves as the royal residence of the royal family of Kolhapur. The ground floor of the palace has been converted into a museum housing articles belonging to the Maharaja Chhatrapati.
Step into the museum and treat your eyes to an amazing collection of costumes, weapons, jewelery, games, embroidered items and silver elephant saddles. Other main attraction inside the museum is a letter from the British Viceroy and Governor General of India. The Palace also houses a lush green garden, a zoo and a beautiful lake.
Binkhambi Ganesh Mandir
Dedicated to Lord Ganesha, Binkhambi Ganesh Mandir is popular with tourists. The striking feature of the temple is that it has no pillar. This unique architecture of the temple attracts tourists from far and wide.
Jyotiba Temple
Visited by thousands of devotees every year, Jyotiba Temple is located in the Panhala range of Maharashtra. The temple enshrines the deity Jotiba who is believed to be the soul of the three deities namely Brahma, Vishnu and Shiva. Legend goes that Jyotiba deity was formed to kill the demon Ratnasur.
Town Hall Museum
The museum houses the articles, which were unearthed during the Brahmagiri excavations. Built in the year 1876, the museum displays a rare collection of pottery, bronze articles, old coins of the region, filigree work in sandalwood and ivory, works of the famous artists of the region and several antiques.
Panhala
It is fantastic hill station located 18 km from Kolhapur. The hill fort perched on the hill was built by Raja Bhoj in the year 1192.
Free Tour Customization
from Experts