Ex-Mumbai / Pune
Religious Destinations
Solapur
Solapur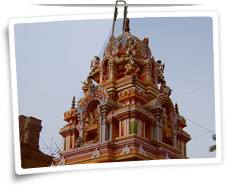 Solapur district is visited by tourists from across the world for its historic and religious structures. Solapur is a wonderful place located on the banks of river Sina in the state of Maharashtra. Solapur is also famous for cotton mills and power looms. It is also the birth place of the great freedom fighters. The beautiful river Bhima flows through  the district, adding more charm to it.
Attractions Of Solapur
Shri Siddeshwar Temple
Located in the middle of the lake, Shri Siddeshwar Temple is a major attraction of Solapur. The temple is dedicated to Lord Siddeshwar whose other forms are Lord Vishnu and Lord Shiva. The temple also has a refreshing garden where one can relax. There is a beautiful shrine dedicated to the saint Nalavatvad in the garden. The silver-plated image of Nandi is one of the important attractions of the temple. The exquisite engravings inside the temple will leave you mesmerized.
The foundation of the temple was laid 700 years back by the Habbus, an ardent devotee of the saint Siddeshwar. The temple becomes the venue for the annual fair held in the month of January. A wide variety of handicrafts are available in the fair.
Tuljapur-Tuljabhawani Temple
It is an arresting temple reflecting the glorious history of Solapur. It draws devotees in huge numbers.
Akkalkot Swami Samarth Maharaj Temple
Dedicated to the saint Swami Samarth Maharaj, Akkalkot Swami Samarth Maharaj Temple is a famous temple in Solapur. Akkalkot is also famous for its banyan tree under which the saint used to meditate.
The temple in Karmala is renowned for its unique architecture. The temple has 96 steps, 96 pillars and 96 pictures.
Jain Temples
Solapur is also admired for the beauty of its Jain temples namely Mallikarjuna Temple, Parasnath Temple and the Adinath Temple, which are named after the Jain Tirthankaras.
Bird Sanctuary
The Great Indian Bustard Sanctuary in Solapur is famous for its rare bird-Great Indian Bustard or Maldhok. Sprawling over an area of 8000 sq km, the sanctuary is worth a visit.
Best Time To Visit Solapur
From October to February.
Climate
Temperature Max: 44.10 °C Min: 10.7 °C Rainfall-759.80 mm (Average)
Accommodation
Numerous hotels offering decent accommodation facilities and services are available in Solapur.
How To Reach
By Air
The nearest airport is located in Pune.
By Rail
The nearest railway station is at Solapur only.
By Road
Major cities of Maharashtra are well connected to Solapur by road.
Free Tour Customization
from Experts