Ex-Mumbai / Pune
Religious Destinations
Nanded
Nanded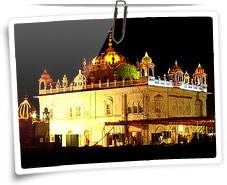 The Glorious City
Nanded is a famous Sikh pilgrimage site where devotees come from all parts of the world. This holy city attracts devotees in great numbers during the celebration of the birth anniversary of Guru Govind Singh in the month of December every year. The Sachkhanda Gurudwara serves as the venue for the celebration and is also a great attraction of Nanded. The town also has several other Gurudwaras. Situated on the banks of the Godavari river in Marathwada region of Maharashtra, Nanded is a destination worth a visit.
Nanded has also enjoyed being an important center of Vedant studies, dramas, classical music, literature and arts.
Attractions of Nanded
Sachkand Gurudwara
Sachkand Gurudwara is one of the most important attractions of Nanded. It is also one of the five Takhats, which is visited by many a devotee from far and wide. The Gurudwara houses the holy book Sri Guru Granth Sahib.
Masjid of Biloli
Also know as the Nawab Sarfaraz Masjid, the Masjid of Biloli occupies an important place in the hearts of the Muslims. It was built by Sarfaraz Khan in the 17th century.
Shrikshetra Mahurgadh
Perched on a hill, Shrikshetra Mahurgadh is a temple offering amazing views of nature. It was built by the Yadav rulers during their reign in the 11th century.
Unkeshvar
Do visit this beautiful village on you tour to Nanded. It boasts of hot water springs and its picturesque location on the banks of the river Penganga. It is believed that the natural springs are endowed with skin rejuvenating chemicals.
Kandhar Fort
Almost in ruins, Kandhar Fort was once famous for its architecture. It was constructed by the king of Malkhed for security purposes.
Nanded Fort
Take a stroll in the beautiful gardens of Nanded Fort, which offers mesmerizing views of the river Godavari. The fort is in ruins but still has a charm of its own.
Siddeshwara Temple
Reflecting the fabulous art and architecture of the Chalukya dynasty, Siddeshwara Temple is a wonderful temple.
Most Propitious Time To Visit Nanded
From October to February.
Nanded is dotted with a variety of accommodation options. Depending on your requirements you have several options to choose from.
How To Reach
By Air
Hyderabad is the nearest airport located 284 km from Nanded.
By Rail
The railway station at Nanded connects the town with the major cities like Mumbai, Aurangabad, Hyderabad, Bangalore, Pune and Amritsar.
By Road
A good network of road connects Nanded with the important cities of Maharashtra and the neighboring states.
Free Tour Customization
from Experts