Ex-Mumbai / Pune
Religious Destinations
Bhimshankar
Bhimshankar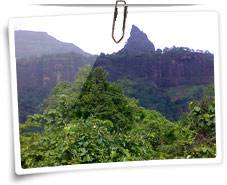 Famous for the beautiful Bhimashankar Temple, one of the twelve Jyotirlingas of Shiva, Bhimashankar is a small village. Located in the ghat region of the Sahyadri hills in the state of Maharashtra, Bhimashankar draws many a tourist throughout the year. Held in high respect, Bhimashankar is one of the most important pilgrimages of the Hindus. The charming river Bhimarathi flows through the village Bhimashankar. The scenic beauty of Bhimashankar village mesmerizes visitors, making their tour memorable.
The legend goes that it is at Bhimashankar where Lord Shiva killed the demon Tripurasura. Lord Shiva took the form of Bhima and it is believed that river Bhimarathi was formed out of the sweat that dropped from his body while battling against the demon.
The best time to visit Bhimashankar
from August to February.
Attractions Of Bhimashankar
Bhimashankar Temple
Bhimashankar Temple is a famous temple as it is one of the twelve Jyotirlingas of Lord Shiva. Encompassing old and new structures, the temple was constructed in the 18th century. The credit of the beauty of the temple goes to its Indo-Aryan and Nagara style of architecture. The sanctum sanctorum houses the idol of Lord Shiva. The beauty of the pillars and door frames is noteworthy. They are adorned with exquisite carvings of human figures, deities, and several mythological scenes. The entrance of the temple has a beautiful statue of Nandi. Puja is performed thrice a day in the temple.
Bhimashankar Wildlife Sanctuary
It is a wonderful sanctuary rich in both flora and fauna. The striking attraction of the sanctuary is the giant Indian squirrels. Other wildlife species found here are panther, sambar, mouse deer, hyena and wild boar.
Kamalaja Temple
It is an important temple located near the Bhimashankar temple. This temple is dedicated to Goddess Parvati who fought alongside Lord Shiva against the demon.
How To Get There
By Air
Pune is the nearest airport located at a distance of 95 km from Bhimashankar.
By Rail
Pune is the nearest railway station.
By Road
Bhimashankar is easily accessible from the main cities of Maharashtra by road.
Accommodation
Pune is dotted with a variety of hotels.
Free Tour Customization
from Experts