Ex-Mumbai / Pune
South of Mumbai
Ganapatipule / Ratnagiri
Ganapatipule / Ratnagiri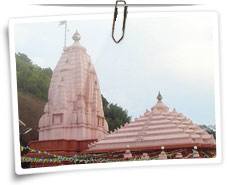 The Virgin Beaches Of Maharashtra- Ganapatipule And Ratnagiri
Relish an almost unique view of Konkan village, mesmerizing silence of the scenic beaches accompanied by an impressive number of exotic birds- Welcome to the towns of Ganapatipule ans Ratnagiri. Popular as one of the most visited pilgrim destinations in India, Ganpatipule is bounded by the green hills and blue sea. It lies about 375 km from Mumbai, about 331 km from Pune and 50 km from Ratnagiri town in Ratnagiri district.
Ganapatipule
Ganapatipule Beach, one of the few beaches in Maharashtra that have still remained untouched by the travails of time, is a popular excursion from Kolhapur (150 km) as well. The town and the beach are named after Lord Ganesha ('Ganapati' means Ganesha and 'Pule' means sand), whose temple is a highly revered site in the region. Ganapatipule is one of the Ashta Ganapatis (eight Ganapatis) of India and called the Paschim Dwar-Dewata which means the Western Sentinel God.
Prime Attractions At Ganapatipule
Swayambhu Ganpati
This famous shrine is centuries old and is believed to be naturally formed. On every Ganesh Chaturthi or festivals dedicated to Lord Ganesha, the idol is taken out of the temple, and accompanied by a pujari (priest) and a drummer. Because of this shrine only, the town is considered one of the Ashta Ganapatis.
Malgund
This small but beautiful village is the birth place of the famous Marathi poet Keshavsoot. Today the residence of Keshavsoot serves as a students' hostel.
Jaigad Fort
Built on a high cliff, the fort lies 35 km from Ganapatipule town. Situated near River Sangameshwar, the fort offers a magnificent view of the beach.
Pawas
This beautiful and calm place is famous for the Ashram of Swami Swaroopanand.
Ratnagiri
This picturesque and verdant destination is a popular and famous district in the Konkan coast. Famous as the birth place of the famous freedom fighter Shri Bal Gangadhar Tilak, Ratnagiri is famous for Alphanso mangoes, cashew nuts, fisheries, rice and mineral bauxite.
Prime Attractions At Ratnagiri
Tilak Smarak
Ratnagiri boasts of being the birth place of Bal Gangadhar Tilak and his house 'Tilak Smarak' is an attraction for all visitors. This historical place houses several antique items as well.
Patit Pawan Mandir
Built by the revolutionary leader Swatantryaveer Savarkar, this temple was the the first temple built for non-Brahmins.
Other attractions at Ratnagiri include Bhatye Beach, The Coconut Research Center, Ratnadurg Fort, Bhagwati Bunder (Sea Port) and The Seafood Processing Centre at Mirya.
Shopping
The Konkan region is famous for cashewnuts, coconuts, some of the finest horticultural fruits and their preparations like 'ambapoli' (thin pancakes of dried and crushed mangoes), 'phanaspoli' (thin pancakes of dried and crushed jackfruit), etc.
Reaching There
By Air
Ratnagiri airport is connected to various important cities of the country. It is 50 km from Ganapatipule.
By Rail
Ratnagiri railway station connects the region to various cities of the country.
By Road
Both the towns are well connected to major routes from Mumbai, Pune and other  cities.
Free Tour Customization
from Experts