Ex-Mumbai / Pune
South of Mumbai
Harihareshwar / Shrivardhan
Harihareshwar / Shrivardhan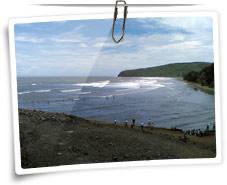 Celebrated Vacations On the Sun Kissed Sands Of Harihareshwar And Shrivardhan
Gentle winds, soft sands and inviting waters make the twin cities of Harihareshwar and Shrivardhan irresistible to beach lovers. This part of the Konkan coastline is known for its tranquil and serene beach. Adventure enthusiasts can explore the nearby region by a boat. Tropical climate, and unpolluted air and sea attract a number of tourists every year for relaxing holidays.
Harihareshwar is a typical Konkani town. The town is famous for the Harihareshwar Temple, dedicated to Lord Shiva. Another Shiva temple 'Kaal-Bhairav' is also a frequented site at Harihareshwar. A short boat ride takes you to the site where the ministers of the Maratha kingdom resided.
Historians believe that the town was founded during the reign of great emperor Shivaji and Bajirao Peshawa. Even the ancient temples of this Konkani region reflect the age old Indian architectural styles blended with Maratha style of constructions. The sculptures in these temples depict the stories from the Hindu epics. 'Peshwa Smarak' and the Bankot Fort at Bagmandala, about 4 km, are another attractions.
Harihareshwar offers various economy class hotels and lodges. Besides, Maharashtra Tourism Development Corporation (MTDC) runs a resort here.
How To Reach
By Air
Nearest airport is Mumbai (215 km).
By Rail
The Nearest railhead is Mangaon (65 km).
By Road
Both the twin cities are well connected by road to Mumbai or Pune. The distance between Shrivardhan and Harihareshwar is about 18 km, which is commuted by local transport rickshaws and six seaters.
Free Tour Customization
from Experts