Ex-Mumbai / Pune
South of Mumbai
Dapoli / Harnai
Dapoli / Harnai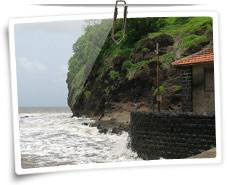 Surrounded by hills & forests, the towns of Dapoli and Harnai encompass long coastal lines and a varied flora & fauna. Both the towns are 15 km apart from each other and are known for a scenic natural greenery. Harnai is known for a calm beach, highly attractive for meditation, and dotted with palm trees. While, Dapoli is a small hill-station in Ratnagiri district in Kokan region of Maharashtra.
Adventure Activities
Harnai draws a number of adventure lovers to enjoy Swimming, Dolphin Watching, Boating through Backwaters, etc. While on a honeymoon tour, the couples can spend their romantic evenings watching sunset at Tamasteertha beach at Ladghar. On the other hand, Dapoli is a favourite destination among those who love thrilling activities. Hills at Dapoli are ideal for Trekking in the nearby jungles and Cave Exploring. Dapoli is also famous for long walks through the plantations of Mangoes, Betel nuts, Cashew nuts and Coconuts.
Other Attractions
Asud (famous for ancient temples of Keshavraj and Vyaghreshwar)
Swarna Durg (the majestic fort built by Shivaji to counter the Siddi and the Europeans)
Ganapati of Hill or Kadyawarcha (ancient temple in Aanjarle village, near the Aanjarle beach)
Panhalekaji Caves (about 29 caves with Hindu and Buddhist sculptures, on the banks of the Kotjai river, dating back to more than 1000 years)
Unhavare (natural hot springs with medicinal powers)
Ancient temple of Shree Parashuram
Getting There
By Air
The nearest airports are at Ratnagiri (about 100 km) and Mumbai (about 240 km).
By Road
The nearest railway station is Khed, 40 km away from Dapoli. Satara railway station is about 154 km from Harnai, which is also linked with all the major cities of India.
By Road
The simplest and best way to get in Dapoli or Harnai is by Road. Dapoli lies at a distance of about 240 km from Mumbai along NH-17 (Mumbai-Goa Highway) & 180 km from Pune.
Free Tour Customization
from Experts