Ex-Mumbai / Pune
South of Mumbai
Kashid / Murud
Kashid / Murud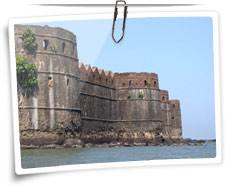 Exciting Vacations On The Tranquil Shores Of Kashid-Murud
Plan an exciting trip to the crystal clear waters of Arabian Sea at Kashid and Murud in the north Konkan region of Maharashtra. These small towns, blessed with scenic beaches, are meant for resting on weekends.
Located 135 km from Mumbai, on the Alibag-Murud road, Kashid is an isolated town popular for its white sand, 3 km long coastline, green mountains, paddy fields, and rivulets. Another 15 km from Kashid, lies another scenic destination 'Murud'. The sparkling beach at Murud has a coastline of about 4 km. The difference you will find in the both the beaches is, Murud has got crystal clear greenish water whereas Kashid has crystal clear blue one.
Other Attractions
Janjira Fort
This 350 year old fort symbolizes bravery of the Siddi Kings. The actual charm of this architectural wonder lies in the stone carving on the main entrance depicting six elephants trapped by a single tiger. The fort has two natural sweet-water reservoirs. A few old canons are also preserved within the fort.
Those who have an inclination towards history are also attracted towards Palace of Nawab and Janjira Caves.
The Temple of Lord Dattaraya
This ancient temple, dedicated to Lord Dattatraya, is built on a hill. It offers a bird's eye view of the entire region.
Phansad Wildlife Sanctuary
Established as a bird sanctuary, today this sanctuary is home to a number of insect, amphibian and mammal species. The renowned wildlife sanctuary covers an area of about 52.71 sq. km.
Accommodation
Both the towns offer plenty of holiday homes for all budgets. Beach resorts at Kashid are meant for family holidays. Kashid beach resort and Prakruti resort are the places with four star facilities. Besides, there are options for low budget travelers as well. There are only a few small hotels in Kashid as the rest of the area is privately owned.
Activities
The beaches are crowded on weekends. Rest of the days, both the beaches are quite calm. These are meant perfect for sun bath, long walks under the moonlight and surfing. But surfing or any other sport is not recommended during the months of June to September (monsoon season).
Best Season To Visit
October to March
Cuisine
Almost every restaurant and hotel serves all kinds of Indian and Chinese dishes, but the specialty lies in Konkani and sea food.
How To Reach
It takes about 4 hours to reach Kashid/Murud by bus or taxi from Mumbai, Thane, and Alibaug.
Free Tour Customization
from Experts