Ex-Mumbai / Pune
South of Mumbai
Malvan
Malvan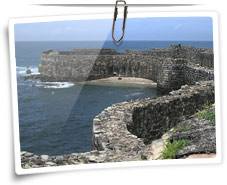 Impressive Malvan: Biologically Rich Coastal Region
Astounding sea-shore, long stretch of iridescent sand, and dense groves of cashew, coconut, jackfruit and mango make Malvan an impressive tourist destination. Once an important trade centre, Malvan today is a renowned fishing port on western coast of Sindhudurga District. About 514 km from Mumbai and 200 km from Ratnagiri, Malvan is the southernmost part of the state of Maharashtra. The area is covered with dense palms and is famed for Shri Devi Sateri Temple and Rameshwar Temple.
Prime Attractions
Sindhudurg Fort
This 17th century structure is perhaps the most scary historical monument of the state. The fort, which gives a testimony to the Maratha maritime supremacy, was built by Maratha King Shivaji. Covering an area of about 48 acres, the fort has walls with 12 feet width 30 feet height. The construction began in November 1664 and was completed in three years. Today, the temple has a few temples only, which are dedicated to Mahadeo, Jarimai, Mahapursh, Bhavani and Shivaji.
Malvan Marine Sanctuary
Extremely rich in coral and marine life, this sanctuary is the only of its kind in the region. It is full of sea anemones, mollusks, polychaetes, pearl oyster, corals, seaweed and mangroves. The sanctuary covers an area of 29.22 sq. km.
Malvan Beach
Being commercially active, the Malvan Beach is known for fishing. One can see the beach full of various colourful boats all the time. The beach is dotted with sea-food restaurants and bars. Adventure lovers can try out scuba diving at the Malvan Beach. The sunset at the Malvan beach is spectacular with Sindhudurga fort in the background.
Chivla Beach, Asra Mahal Beach, Tondavali Beach, Achara Beach, Tarkarli Beach, Devbaug Beach, and Dhamapur Lake are several other spots that are popular for fishing and several adventure activities.
Accommodation
One can find a number of luxury resorts and hotels in and around Malvan. MTDC also runs a resort in the nearby area. Most of the resorts at Malvan are categorized as beach resorts.
Getting There
alvan is located about 35 km from the Mumbai-Goa National Highway- 17. the nearest railhead  is Kudal on the Konkan Railway. One can take a bus or a taxi from Mumbai (514 km) or Ratnagiri (200 km) to reach Malvan.
Free Tour Customization
from Experts