Ex-Mumbai / Pune
North of Mumbai
U Tan / Bhayendar
U Tan / Bhayendar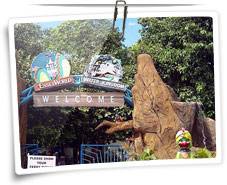 The Real Estate And Industrial Gem
Located to the north of Mumbai on the Mumbai-Ahmedabad highway, Bhayandar is a region in Thane District. Mumbai suburban railway line divides Bhayandar into two parts- east and west. The eastern and the western parts were industrial and residential areas respectively. But the growth in real estate sector has made Bhayandar one of the most populous regions of the state.
Bhayandar is connected to Mumbai via Mira Road (on the eastern part of rail track) through the Western Express Highway (NH-8). Till the 70s, Bhayandar was a small village with fertile land. Later it was converted to a concrete jungle by the builders and contractors. The recent growth in real estate in Mumbai and Government-owned Salt Pans in West Mira Road together have helped Bhayandar become one of the populated stations on the Western railway circuit.
Prime Attractions
Beautiful Villages
Small villages like Dongri, Uttan, Pali Chowk, Tarodi, and Gorai serve as popular weekend getaways to tourists. These villages were formed by the Portuguese travellers. The Gorai village is a famous destination among tourists. It serves as a gateway to "Essel World" and is also popular for its beach.
Jain Temple
Jain Temple at Bhayandar is a major landmark and has great historical values. This temple is a 'Bawan Jinalaya' that means 'a main temple surrounded by 52 smaller temples/statues'. This was the first of its kind in Maharashtra.
Our Lady Of Nazareth Catholic Church
This beautiful church is one of the most revered places in the entire region. It offers a marvellous view when the light enters from its roof and shines on the statue of Lord Jesus. A new and larger church is built recently on the site of the older one that served the local population for more than a 100 years.
This small town is coming up as an important destination to stay as a lot of the residents from Mumbai suburbs are moving in.
How To Reach
The nearest airport is Chhatrapati Shivaji International Airport (CSIA). Bhayandar has a small railway line as well. Besides, one can get long distance trains towards west & north from Mumbai Central (BCT) railway station, and towards east & south from Chhatrapati Shivaji Terminus (CSTM).
Commuting within the state is also not a problem as minor stations like Lokmanya Tilak Terminus (LTT) and Bandra Terminus (BDTS) are located near the town.
Free Tour Customization
from Experts