Ex-Mumbai / Pun
North of Mumbai
Dahanu / Bordi
Dahanu / Bordi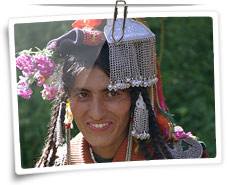 A Beautiful Stretch Of Sand And Surf
Dahanu-Bordi, known for tourism with a difference, has 17 km long coastline of clean and unspoiled golden sand in Thane District of Maharashtra. This long beach is dotted with a number of fruit gardens, especially 'chickoos'. This quiet seaside town with its sprawling and uncluttered beach is located about 145 km from Mumbai. Apart from the scenic beauty, the culture of the region, a perfect blend of Irani and Parsi, adds more charm to the town.
Attractions
The prime attraction in this coastal area is the serenity of the beach, soft sand and the gentle breeze. The beach at Dahanu is safe and has no under currents.
The beach is broad during low tide and people can go for long walks or play volleyball and football on the sands. Children can spend their time in activities like building sandcastles and collecting sea shells.
Besides, the temple at Udwada is another highly revered place. It is known as "the hub of the Zoroastrians" and is famous for its renowned Parsi Temple. This magnificent temple houses a sacred fire of the Zoroastrians that has been kept alive for almost a thousand years.
Accommodation
Mumbai is quite close to Dahanu, so accommodation is not at all a problem. Apart from that, Dahanu itself has several well equipped comfortable and reasonable budget hotels. Locals at Dahanu also let rooms for accommodation. MTDC (Maharashtra Tourism Development Corporation) also runs a resort at Dahanu.
How To Get There
By Air
Nearest airport is Mumbai, 145 km.
By Rail
Nearest railhead is Gholwad, 2 km. Besides, Dahanu railway station is 15 km from the centre of the town.
By Road
Mumbai is 145 km from Dahanu-Bordi, which is accessible by State Transport buses or private taxis.
Free Tour Customization
from Experts