Ex-Mumbai / Pune
North of Mumbai
Kelva
Kelva - Beach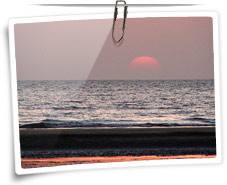 A Coastline With Historical, Religious And Natural Attractions
An important beach in Thane District, Kelva boasts of having a 7 km long stretch of coastline. Highly frequented on weekends, the beach offers wide expanse of the Arabian Sea. With the largest stretch of beautiful coastline of Arabian Sea in Thane District, Kelva Beach is dotted with a number of Suru trees and serves as the most sought after weekend destination near Mumbai.
Sightseeing Destinations
Kelva Fort & Sheetla Devi Temple
This ancient fort is situated at the southern end the beach. For the religious minded, the Sheetladevi Temple is located near the beach. This highly revered temple also hosts a small annual fair.
Mahim
This quite seaside town, 5 km from Kelva beach, is known as 'Fruit Town'. One can find a number of coconuts and betel leaves in this town along with various banana varieties like Rajeli, Tenbeli, Mutheli and Velchi. The town serves as an exporting market of these fruits and betel leaves to Middle-East and Far-East countries. Mahim got its name from the Mahikavati temple, the main shrine of the village.
Shirgaon Fort
Built in the British period, this majestic fort serves as a famous picnic spot. It is located 7 km from Kelva Beach and offers a panoramic view of the Arabian Sea.
Satpati Port
Situated at 20 minutes drive from the Kelva Beach, Satpati Port is a renowned fishing village. It serves as an exporting market of marine products to several Middle East nations. A famous Shri Rama temple is located at the entrance of the town.
Tarapur
Located a few kilometres from the Kelva Beach, Tarapur is a world famous destination because of the Bhabha Atomic Research Centre (BARC) and Tarapur Atomic Power Station (TAPS). The town, with nuclear power plants and about 2,500 industrial units, is called the industrial centre of the entire region.
Palghar City
Located 8 km from the Kelva Beach, Palghar City is the administrative centre of about 200 villages. It has a number of factories, mills and industries dealing in rice, engineering products, electrical, stationary, pharmaceutical,textile and chemical products.
Accommodation
Kelva Beach offers a few budget class accommodation units. One can choose from a range of economy class hotels or beach resorts for comfortable stay at Kelva Beach.
How To Go
Get into a shuttle or passenger train from Mumbai to Kelva and get down at Kelva road station. The beach is about 5-7 km from station which is easily accessible by bus or taxi.
Free Tour Customization
from Experts