Ex-Mumbai / Pune
North of Mumbai
Daman
Daman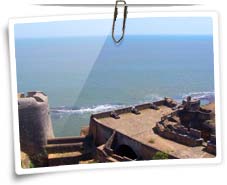 The Island With The Rarest Natural Splendour
White sandy secluded beaches, untouched natural beauty and unrivalled serenity and cool breeze coming from over the Arabian Sea- Welcome to the twin islands of Daman and Diu. This second smallest union territory of India is situated on the west coast and is known for massive forts, magnificent cathedrals, and other impressive monuments. The region was under the control of the Portuguese for a period of 450 years, therefore it offers excellent growth potential to attract domestic as well as overseas tourists every year in the charm of natural resources and beauty, and historical heritage.
Daman is a small area sandwiched between the State of Maharashtra, Gujarat and the Arabian Sea. Daman lies 193 km north of Mumbai on the coast of the southern edge of Gujarat, just north of Dadra and Nagar Haveli.
Climate
Daman enjoys favourable climate throughout the year. Being located alongside the Arabian Sea, it reflects a tropical environment. Even summers are quite cool at Daman. October to May is the perfect time to visit this wonderland.
Adventure Activities
The scenic location and serene surroundings at Daman offer a number of water sports like surfing, wind sailing, water scootering etc. Besides, Daman & Diu Tourism Board is taking initiatives towards adventure sports and sightseeing in order to promote tourism in Daman & Diu.
Shopping
Daman is known for its leather products, bamboo mats and baskets, and other handicrafts. People can also buy several exotic brands of Indian and foreign liquors from Daman. Maharaja Super Market and Princess Park at Devka Beach are the most sought after shopping destinations over here.
Tourist Attractions
Temples
The Somanath Mahadev Temple is one of the most revered Hindu shrine at Daman. Located in village Dabhel, the temple is dedicated to Lord Shiva and it hosts a fair 'Gangaji Fair' every year that draws thousands of pilgrims from far off places. The 'Shivalinga' at the temple is believed to be formed on the request of a monk in the 19th century.
Gangeshwar temple and Gomptimata temple are other renowned Hindu Temples.
Churches
Church of Our Lady of Rosary and Church of St. Francis of Assisi are the famous churches at Daman that are known for their extraordinary architecture.
Fort of St. Jerome, Devka beach, Zampa Gateway, Nagoa beach, Jama Masjid, Light House, the amusement park and the Gandhi Park are other noteworthy travel destinations at Daman and Diu.
Accommodation
Daman offers a number of cheap hotels located on the Sea-facing Road. One can also find various beach resorts and guest-houses run by Daman & Diu Tourism and private hoteliers.
How To Reach
By Air
The nearest airport is Diu, 5 km from the Diu town. Besides, Mumbai (193 km) has a major airport operating all the major airlines like Jet Airways, Jetlite, Spice jet, Indigo Kingfisher Airlines etc.
By Rail
The nearest railhead is Vapi (10 km).
By Road
National Highway- 8 links Daman & Diu by road with Ahmedabad (367 km), Mumbai (193 km), Vadodara (300 km) and several other major cities of India.
Free Tour Customization
from Experts