Assam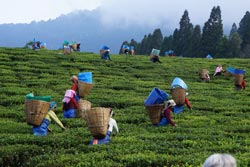 The spectacular gateway to North-East India, Assam remains the most beautiful state of India. The state has a wealth of nature which is untouched and unexplored. This nature lover's paradise pampers you with majestic sights of Brahmaputra River and wonderful hills. Tea plantation of Assam can never be missed. They stretch all over the state and look like a never ending emerald blanket. Locals of Assam lead a simple life and are deeply rooted to their cultures and traditions. An interaction with them gives you a clear insight of their active way of living which is simple yet unique in its own way.
Here are the top places to visit in Assam:
Guwahati
Located on the banks of Brahmaputra River, Guwahati remains a highly popular city of Assam. It is a popular tourist hub and is dotted with numerous attractions, including Kaziranga National Park, Kamakhya Temple, Umananda Temple, Assam Rajyik State Museum, Navagraha Temple, and much more. Guwahati is selfishly blessed by the Mother Nature with the most pleasurable retreats, making it a true delight for nature devotees.
Jorhat
Jorhat is an ideal fusion of history, culture and natural beauty. One can see an endless list of attractions here. Majuli, located at a distance of 20 kms from Jorhat, is planet's largest river island. Jorhat Gymkhana Club is also a must visit as this is the third oldest in the whole planet. Jorhat's natural beauty cannot be described in words. Jorhat also houses the largest Tea research station in India and thus, is often termed as the Tea Capital of India. Some of the must visit attractions of Jorhat include Bangal Pukhuri, Thengal Manor, Burigosain Devalaya, Bilvesvar Siva Temple, Magolu Khat, Dhekiakhowa Bornamghar, Purnananda Buragohain Maidam and Raja Maidam.
Sualkuchi
If handloom excites you, then Sualkuchi is perhaps an ideal place for you. This place is the real pride of Assam as it is keeps the traditional bamboo looms still alive. Here you can see silk weaving techniques apart from making of Mekhla Chadars, saris and shawls. This is a place to interact with happy locals and learn some insights about their cultures. The rustic charm of this place is magical and it is surely one of the best places to visit in Assam.
Tezpur
The beauty of Tezpur is unbelievable. The river Brahmaputra flows right through the city and it remains brimming with theatre, traditional dances and cultural events. When it comes to attractions to explore, Tezpur literally spoils everyone with choices. Visit Nameri National Park, Agnigarh, Bamuni Hills, Bura-Chapori Wildlife Sanctuary, Chitralekha Udyan and District Museum to get some local flavours.
Hajo
The pilgrimage city of Assam, Hajo is located at a distance of 24kms from Guwahati. It is home to numerous Hindu temples, including Hayagriva Madhab Temple, Kedareshwar Temple and Ganesha Temple. Pilgrims visiting Hajo also pay homage at Powa Mecca, a Muslim pilgrimage. Buddhists believe that Hajo is the place where Lord Buddha attained Parinirvana and thus, it holds great importance among Buddhists as well.
Diphu
Situated in Karbi Anglong district of Assam, Diphu is all about lush green expanses. Botanical Garden, 5 km distance from Diphu, is visited by numerous travellers to explore the varied species of trees and plants. If you have keenness for cultures, then District Museum is ideal for you. This museum was raised in 1886 and exhibits numerous artefacts of archaeological significance.
Shopping
The locals of Assam have great skills of bamboo and cane products' making. Thus, one must buy local items, handicrafts and souvenirs from here to keep as mementoes. Jappi, the beautiful sunshade, is bought by every traveller visiting here.  Travellers must also buy some wooden crafts, tribal masks, traditional jewels and local paintings depicting the culture and history of the state.
Cuisine
The dishes of Assam are simple yet stuffed with the yummiest ingredients. Rice with fish or meat dishes is cooked in every household. Locals also prepare dishes like Duck meat curry (duck meat cooked with Ash Gourd), Maasor tenga (tangy fish curry), Aloo Pitika (mashed potatoes cooked in local spices) and Baanhgajor Lagot Kukura (chicken with bamboo shoot). To savour something sweet, pitha (moulded sticky rice cake with black sesame filling) is great.
Weather Conditions
The months from November to March (winters and summers) are ideal to visit Assam. While the winter months are chilling, summer months are great to relish the nature sprawling here.
How to Reach
Guwahati's Lokapriya Gopinath Bordoloi International Airport is the closest airport of Assam. Those taking train journey can get down at Guwahati, the rail hub of Assam. The state also enjoys a great road network with neighbouring states like West Bengal, Meghalaya, Manipur, Mizoram, Nagaland and Arunachal Pradesh.
Free Tour Customization
from Experts