Himachal Pradesh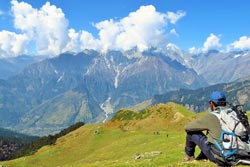 With stunning snowy peaks and rising and falling river valleys, Himachal Pradesh remains the most popular adventure holiday destination in India. This is definitely a place that lets you push your limits and partake in some heart pumping adventure activities, including trekking, climbing, rafting, paragliding and skiing. Travellers visit here to experience the untouched horizons, which are serene and spectacular. Himachal has been home to centuries-old Buddhist cultures, which can be seen in tiny villages sprinkled here.
Here are the top places to visit in Himachal Pradesh:
Kullu
One of the most frequented tourist places in India, Kullu is ideal to unwind amidst ample of nature. Located on the banks of the Beas River, Kullu is often termed as the 'Valley of Gods as it brings to you pristine landscapes. It houses numerous attractions to explore, including Basheshwar Mahadev Temple, Great Himalayan National Park, Sultanpur Palace, Parvati Valley, etc.
Manali
Situated an altitude of 6726 feet, Manali is blanketed with snow-capped mountains. Every facade here is a feast for your eyes. Numerous adventure seekers visit here to enjoy trekking at Rohtang Pass and Solang valley. Spot tiny Tibetan Monasteries during the treks which look extremely colourful.
Shimla
One of the most popular hill stations among newlyweds in India, Shimla was once summer capital of the British. Visit here to experience views of snow-capped Himalayan ranges beautified with pristine lakes and emerald landscapes. Explore must visit places in Shimla, including The Ridge, Mall Road, Jakhoo Hill, etc.
Chamba
A blessing for nature lovers, Chamba is situated on the banks of River Ravi. It is a perfect holiday destination for those having keenness for Indian religions as it houses numerous temples, including Akhand Chandi Palace, Champavati Temple, Lakshmi Narayan Temples., etc.
Dharamshala
A marvellous treat for adventurers, Dharamshala is all about snow-clad mountains, pine trees and flourishing gardens. Here you can try out various adventure activities which are ideal for novice as well as veteran adventure seekers. Dharamshala is also known for its historic attractions, including Gyuto Monastery, Kangra Fort, Kangra Museum, and Naddi Village.
Food
Food of Himachal Pradesh has a distinct flavour that makes it stand out of all other cuisines in India. It's simple yet leaves an everlasting taste on your tongue. Madra remains a popular dish of Chamba district made of chickpeas (chana) and locally found spices. Dhaam makes a complete food platter of the state, including dal, rajma, rice, curd, boor ki Kadi and gur (jaggery). The authentic pulav of the state, Tudkiya Bhath, is also loved for its rich Indian flavours. For the lovers of non vegetarian food, Chha Gosht made with marinated lamb is a must try dish. Himachal Pradesh is also a great destination to try traditional Tibetan dishes like Thukpa, Tingmo , LuchiPoti, Thentuk and Naizha cake.
Shopping
Shopping in Himachal Pradesh is great fun. You can find everything here, including handicrafts, shawls, pullovers, Tibetan carpets and handicrafts.          Carpets are extremely popular here and come in various patterns. Do not forget to buy Chamba and Kangra paintings featuring royal scenes and romantic tales. Those visiting Shimla must explore the popular Mall Road. In Kullu, shawls, caps, Buddhist paintings and woollens are extremely popular. Shops in Manali are known for selling antiques, Tibetan handicrafts and silver jewellery. Also, Mcleod Ganj is good for picking bronze statues, Tibetan artefacts and metal prayer.
How to Reach
Three main domestic airports in Himachal Pradesh include Jabbarhatti near Shimla, Gaggal near Kangra and Bhuntar near Kullu, linking the state to Delhi and Chandigarh. Those planning to flock here via Railways must know that the terrains of the state are dramatic yet difficult. Himachal Pradesh is not linked by trains except for two narrow gauge rail lines between Kalka - Shimla and Pathankot - Joginder Nagar. Road travel is extremely popular among travellers provided the three National Highways crossing the state.
Free Tour Customization
from Experts