Palitana Tour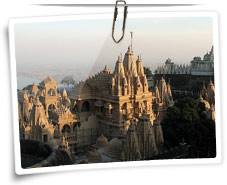 Attracting attention of the tourists from across the globe, Palitana is famed for its architectural marvels- The Jain Temples. Palitana is an important pilgrimage center of the Jains who come here from far and wide. The holy place Palitana is located in the state of Gujarat. Palitana is dotted with numerous Jain temples, which are simply arresting.
Attractions of Palitana
Shatrunjaya Hills
The fascinating Shatrunjaya hills, located only one km from Palitana, is dotted with around 900 temples, each having its own beauty and charm. The height of human creativity can be clearly seen in these beautiful temples. The Shetrunjaya hills are the sacred sites where all the tirthankars, except Neminath, attained nirvana. It is also believed that the three Pandavas, Yudhishthir, Bheem and Arjun attained Nirvana on the Shatrunjaya Hills. This place also has a connection with Rishabhdev, the first tirthankar. The temples here are known for their exquisite carvings, beautiful idols and images, decorated statues and intricate toranas. These Hills also offer great views of sunrise. 
Temples Of Palitana
Meticulously carved in marble, the temples in Palitan are famous for their architectural beauty. Out of all the temples here, the temple dedicated to the first teerthankara, Sri Adishwar, is the most famous one. The architectural motifs of this temple are notable. The history of the temples of Palitana dates back to the period between 11th and the 20th century. Other famous temples here are the Kumarpal, Vimalshah and Sampriti Raja.
The Digamber Jain Temple is one of the most famous temples of Palitana. The temple complex has nine shrines where the idols of all the Tirthankaras have been enshrined. The sanctum sanctorum of the temple has the idol of the Bhagwan Shantinath in padmasana posture.
Apart from the temples, the scenic beauty of Palitana is its other remarkable attraction.
Best Time To Visit Palitana
From October To March
How To Reach Palitana
By Air
Bhavnagar is the nearest airport located at a distance of 51 km from Palitana. The other nearby airport is Ahmedabad.
By Rail
There is a railway station at Palitana which is connected only to Bhavnagar.
By Road
Palitana is well connected to Bhavnagar by buses, which in turn connected to the major cities of Maharashtra by road.
Accommodation In Palitana
Providing a comfortable stay, the hotels in Palitana fall into different categories. Dharamshalas are also available here. Depending on your budget and taste you can choose the one which suits you the best.
Free Tour Customization
from Experts