Madhya Pradesh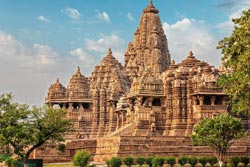 The very heart of India, Madhya Pradesh brings to you a tapestry of vistas which include royal forts, overwhelming topography, exciting wildlife and ancient caves and temples. The state has been known for its marvellous works of architecture made by skilled artisans of the past. Discovering Madhya Pradesh is like digging a whole nation where you will be showered with everything from magnificent temples of Khajuraho to the famous Buddhist shrine Stupa Sanchi, from Jungle Book inspired Kanha National Park to very exciting Bandhavgarh National Park. Another blissful facet of Madhya Pradesh is the tribes residing here constituting over 20% of the state population. Some of the common tribes found here include Gond, Bhils, Baigas, Sahria, Abujhmar, and many others.
Here are the top places to visit in Madhya Pradesh:
Bhopal
The 'City of Lakes', Bhopal houses countless number of natural and artificial lakes. The city brings together a striking mix of old and new with some unique list of attractions. The 'Upper Lake' remains a must visit place in Bhopal. It is a great spot for planning family picnics amidst nature. Close to this lake lies the 'Chhota Talaab' or the 'Lower Lake' where numerous religious, social and cultural rituals are carried out. Wildlife enthusiasts must visit the Van Vihar National Park of Bhopal housing numerous carnivores, including tigers, leopards, panthers, lions, etc. Religion enthusiasts must take out time to visit the Bhojpur Temple built in 11th century AD. Apart from this, to walk down the memory lanes of Bhopal, museums like National Museum of Mankind, State Archaeological Museum and Birla Museum must be explored.
Indore
The largest city in Madhya Pradesh, Indore rests on the banks of River Sarawati and River Khan. The city is often tagged as the 'Commercial Capital' of Madhya Pradesh. It houses numerous marvels of architectural excellence, including the much popular Rajwada Palace. The palace flaunts a mix of Mughal, French and Maratha architectural styles and tells numerous stories of the bygone era. History of this city can also be cherished by visiting Central Museum dating back to 5000 BC. It houses two galleries full of artefacts from prehistoric period. Lal Baag Palace is also often visited due to its European style architecture and numerous displays of artefacts, paintings and sculpture. If Mother Nature excites you, do visit the Patal Pani Waterfalls cascading down from a height of around 200 to 300 feet.
Gwalior
Rich in history, the city of Gwalior is renowned for its charismatic Gwalior Fort belonging to the 8th-century. The fort is home to numerous palaces, temples and water tanks and looks impressive in architecture. Sun Temple is another must visit place devoted to God Sun. It is constructed using red sand stone and is visited by people of all religions. Devotees of architecture must also visit the Jai Vilas Palace Museum made with a mix of Tuscan, Italian and Corinthian styles. It houses the largest pair of chandeliers in Asia apart from numerous other artefacts from history.
Food
The food of Madhya Pradesh brings together the vivid cultures of this state. From superlight Poha (flattened rice) to Rajasthani influenced Daal Bafla (wheat balls served with bowl of Dal and coriander sauce), from lip smacking Seekh Kebabs (Mughal style) to mouth-watering Bhopali Gosht Korma (mutton made with great Indian spices) – every dish here has a distinct flavour. Those having sweet tooth must taste dishes like Malpua (India's own pancakes), Jalebi (wheat flour, fried and then soaked in sugar syrup) and Mawa Bati (mava dough mixed with rich dry fruits).
Shopping
Madhya Pradesh literally spoils shopping lovers with endless choices. From hi-end malls to bustling street markets, you get to choose from a range of options available. The state is known for traditional handicrafts made by locally skilled craftsmen. One can also pick beautiful Chanderi and Maheshwari saris which look extremely beautiful with ornaments. Apart from these, one can also bag some authentic art and craft items from here such as lacquer ware, dolls, hand-woven carpets, wall hangings, etc.  
How to Reach
Bhopal, Gwalior, Khajuraho and Indore are well connected to major cities like Delhi, Mumbai, Chennai and Calcutta by air. A number of private airlines offer regular services to the state. Madhya Pradesh also lies on the main rail routes between Delhi-Mumbai and Delhi-Chennai, thus, offering great connectivity via rail. Those who wish to travel by road can opt for bus services from neighbouring states, including Gujarat, Rajasthan, Uttar Pradesh, Bihar, Jharkhand, Chattisgarh and Maharashtra. 
Free Tour Customization
from Experts