Chidambaram Tour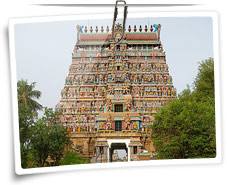 The temple town of Chidambaram is a holy place located in the mesmerizing state of Tamil Nadu. It reaches out to the hearts of the visitors with its beautiful temples. There are several temples in Chidambaram, which are exquisitely carved. Chidambaram is also known as Thillai as this place was once a forest of Thillai shrubs. The literal meaning of Chidambaram is 'the sky permeated b an atmosphere of intelligence and wisdom'.
Attractions of Chidambaram
Natraj Temple
The Nataraja Temple is one of the most important attractions of the Chidambaram town. Sprawling over an area of 40 acres, the temple is dedicated to Lord Nataraja or Lord Shiva in the form of a cosmic dancer. It is an ancient temple whose roof of the sanctum sanctorum is gold plated. The sanctum sanctorum of the temple houses the deity known as Akasa Lingam. Visitors can see 108 Bharat Natyam dance gestures in this temple. The other attractions in the complex of the temple are the Sivakamiamman temple, the Sivaganga tank and the thousand pillar hall.
Kali Temple
The Kali Temple is a beautiful temple, which was built by the king Kopperunjingan in the 13th century.
Viadanatheeswarar Temple
Located 25 km from Chidambaram, the Viadanatheeswarar Temple is was built in honor of Lord Shiva and Goddess Parvati. It is believed that a dip in the waters of the tank in the temple cures all types of illness.
Festivals
The temple serves as a venue for the Natyanjali festival which is celebrated annually in the month of February. Dancers from all over India come here to participate in the dance show. The participants dance in honor of Lord Shiva.
How To Reach
By Air
Trichy is the nearest airport.
By Rail
The railway station at Chidambaram is well connected with the major cities like Trichey, Madurai and Chennai.
By Road
Chitambaram is well connected with the major cities of Tamil Nadu by road.
Accommodation
Most of the hotels in Chidambaram are budget hotels offering decent facilities and services.
Free Tour Customization
from Experts