Dadra and Nagar Haveli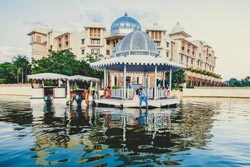 Dadra and Nagar Haveli is basically a union territory lying in close proximity with the west coast. While Dadra is nestled by Gujarat, Nagar Haveli resides on the edges of Maharashtra and Gujarat. Together they cover an area of 491 square kilometres. The nature found here is heart pleasing. From emerald forests to pristine rivers and from beautiful mountain ranges to plenty of fauna - Dadra and Nagar Haveli is a dream of every nature buff.
Here are the top places to visit in Dadra and Nagar Haveli:
Vanganga Lake Garden
Vanganga Lake Garden is just 5 kms from the capital city Silvassa. This is a great place for nature devotees seeking an ideal location to relax. It sprawls over 7.58 hectares and houses a beautiful lake, a bridge of Japanese architecture, an 'Island Garden', small fountains and stunning lighting arrangements. Visitors can be seen jogging, strolling and unwinding in the cottages made here.
Hirwa Van Garden
Another natural wonder here is the Hirwa Van Garden. This is basically a man made forest situated on the Silvassa – Dadra road. The garden flaunts an impressive architecture and has been beatified with waterfalls, springs, stone walls, arches, walkways, etc. There is a special area for kids with play equipments.
Dudhni Lake
Visit Dudhni Lake surrounded by small hills for a day picnic. Often known as the 'Kashmir of the West', this lake was made by using the waters of Madhuban reservoir. Water activities like boats, speed boats, water scooters and kayaks are available here. One can also enjoy trekking through the dense forests here which bestows great pleasure.
Silvassa Vasona Lion Safari
For wildlife enthusiasts, Silvassa Vasona Lion Safari is a breathtaking experience. Watch the majestic lions playing happily in their natural habitat. Hop on the special safari vehicles to explore the region closely where bounty of nature resides.
Tribal Cultural Museum
To peep into the history of this place, the Tribal Cultural Museum remains an ideal choice. The museum pictures a contract between the past and present lifestyle of the region. Exhibits displayed here include hunting tools, traditional jewels and musical instruments which were used by tribals.
Free Tour Customization
from Experts