Panchkula Tour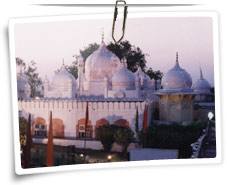 Surrounded by the captivating Himalayas, Panchkula is a wonderful city in the Panchkula district of Haryana. Panchkula is a city of civilization and culture. There are several tourist attractions in Panchkula. The main attraction of Panchkula is the Mansa Devi Temple.
Mansa Devi Temple
Mansa Devi Temple is a beautiful temple whose foundation was laid by Maharaja Gopal Singh in the year 1815 A.D. The legend associated with the temple goes that some people of the hills cut off the stream that supplied water to the pilgrims coming to the temple. One day the goddess came in the dream of Gurbaksh Singh, ruler of Mani Majra and told him to build a temple for her at this place.
It is believed that the prayers of devotees who visit the temple to receive the blessings of the goddess never go unanswered. The fascinating ceiling and the arches of the temple are painted with floral designs. There are thirty eight panels of wall paintings inside the temple, which truly deserve mention.
The Mansa Devi temple complex houses two temples. The main shrine is dedicated to Goddess Mansa who is worshiped here in the form of 'pindi' as well as in  the form of a marble image. In the same shrine the goddess Saraswati and goddess Laxmi are also worshiped in the form of pindi.
During the festival of Navratras, the temple draws pilgrims from far and wide. A fair is also held near the temple in celebration of Navrataras.
Accommodation
There are two dharamshalas near the temple which provide decent facilities to the pilgrims for free. Panchkula has several hotels also, which fall into different categories. Depending on your requirements you have various accommodation options to choose from.
How To Reach
By Air
The nearest airport is located at Chandigarh which connects the city to the main cities of India by regular flights.
By Rail
The nearest railway station is also located at Chandigarh.
By Road
Once you reach Chandigarh you can take a bus or a taxi to reach the temple, which is located 10 km from the Chandigarh bus terminus.
Free Tour Customization
from Experts