Cruise on Ganges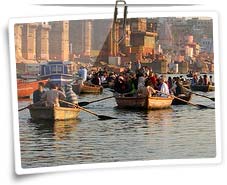 Exhibiting The Religious Aspects Of Enchanting India
Ganga, the holiest river in India and one of the biggest waterways in the world, offers wonderful cruises to the tourists. The river is highly revered by Hindu devotees and is considered as a Goddess. It is believed that a holy dip in river Ganga can wash away all your sins. While sailing on the holy waters, one can see lakhs of pilgrims on the banks the river (on the Ghats) offering flowers, vermilion (sindoor), sweets etc.
Cruising on the Ganga river offers marvellous views of the Ghats, Marine Life, Sun Set and Sun Rise. These cruises may vary from a few hour trip to 4-5 days experience on Ganga waters. Being associated with extraordinary natural beauty and religious values, the river offers glimpses of majestic mountains, beautiful valleys, waterfalls, ancient temples and various prominent pilgrimages.
One of the most popular cruise in the state of Uttar Pradesh is from Allahabad to Varanasi. This is the most colorful and interesting stretch of this legendary river because of the highly revered site of 'Sangam'. The religious site of Sangam is located in Allahabad and is popular for the confluence of three of the holiest rivers Ganga, Yamuna and the mythical Saraswati. This stretch, undoubtedly, offers the best of heritage and entertainment tours.
One can easily book a wooden country boat and can enjoy a leisurely trip through the most picturesque part of India. The boats are well equipped with spacious rooms, air-conditioners, luxurious beds and attached baths, good reading material, telephone connection, emergency kit and tea and coffee maker.
One can explore many serene villages and their virgin lifestyle, village folks, fields, cuisine etc. Apart from beautiful landscapes, country-side views, ancient temples, migratory birds and virgin river islands, these cruises are best to see the morning and evening 'aarti' at various Ghats. October to March is considered the best time to plan a boat cruise on the Ganges.
Free Tour Customization
from Experts