Andhra Pradesh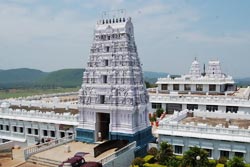 Cladding the south-eastern coast of India, Andhra Pradesh is the 4th biggest state of India. The state enjoys a rich history and remains a significant Buddhist centre as well. Many legendary dynasties ruled Andhra Pradesh in the past, including the Pallavas, the Chalukyas, the Kakatiyas and the Mughals. Each of these dynasties infused their own unique cultures into the state which result in its today's multicultural image.
Here are the top places to visit in Andhra Pradesh:
Visakhapatnam
Visakhapatnam remains a major sea port of the country. It enjoys a tropical climate throughout the year, bringing travellers from all over the world. Its main lures include serene beaches, beautiful hilltops and an exciting wildlife sanctuary. For enjoying a great stay with your family, the Araku Valley here is a great pick.
Tirupati
A renowned cultural and religious pilgrimage spot in India, Tirupati lies at the foothills of the Eastern Ghats. Tirupati is known for housing more than its fair share of temples, including Sri Venkateswara Temple, Sri Govindarajaswami Temple, Srikalahasti, Kanipakam, and many more. The Talakona Waterfalls, the highest in the state, is also loved by tourists for its picturesque vistas.
Vijayawada
Vijayawada, being the third largest city of Andhra Pradesh, is known for its rich agriculture. The city has numerous wonders that one needs to see to believe. Explore the ancient Undavalli Caves belonging to the 7th century BC. The caves are epitome of grand architecture and sculpture. Mogalarajapuram Caves are also popular for their architectural excellence belonging to the bygone era. Prakasam Barrage, a 1223.50 meter long road bridge, also astonishes the first time visitors to Vijayawada. The bridge offers amazing panoramic views and remains a favourite place to enjoy stroll among locals. Apart from these, the Victoria Museum and Kondapalli Fort are great places to walk down the memory lanes.
Nellore
Nellore remains a prime agricultural city of Andhra Pradesh. The far stretched paddy fields of Damaramadugu here provide rice in the state and in rest of the country. When it comes to top places to visit, the city never disappoints you. Visit the majestic Udayagiri Fort or the magnificent Venkatagiri Fort, explore the vast Nellapattu Bird Sanctuary or the architectural wonder Sri Ranganathaswamy Temple – there is absolutely no dearth of attractions in Nellore.
Chittoor
Situated at the banks of the Ponnai River, Chittoor has rich cultures and traditions. The natural beauty of Chittoor is awe-inspiring and can be experienced at the Horsley Hills, a hill station here. Cherish some wildlife wonders at the Kaundinya Wildlife Sanctuary where one can spot elephants, Himalayan black bear, hippopotamus, jackals, sloth bear, and many other animals. Nagari Hills, at an elevation of about 855 meters, are popular among mountaineers. Nagari also houses numerous temples frequented by pilgrims. Apart from this, the Sri Venkateswara Temple of Chittoor remains a popular spiritual place dedicated to Lord Balaji. This 12th century temple has a mix of Chola, Pandya and the Pallava style architecture.   
Food
Often termed as the "Food Bowl of the South", Andhra Pradesh is a paradise for foodies. Food of this state shows an ideal fusion of rich heritage, local cultures and navabi recipes.  Telangana is known for local dishes like Karapu Annam (chilli rice), Rasam (South Indian soup) and Kakarakaya Pulusu (bitter gourd curry prepared with tamarind and spices). Hyderabad's Biryani (rice cooked in delectable spices) is also a must try dish in Andhra Pradesh. Also try other lip smacking Hyderabadi dishes like Biryani Boti Kabab (pieces of meat, marinated and cooked under intense heat, basted with butter or ghee), Khatti Dal (lentils prepared in curry leaves, mustard seeds, cumin, dry red chillies and garlic), and Bhuna Ghost (pan-fried meat with spices).
Shopping
'Shopping in Andhra Pradesh ranges from stunning ornaments to handicrafts and from wooden artefacts to brass carvings. Do visit shopping markets like Laad Bazar for buying lac bangles and multihued stones, Malkha for picking cotton fabric and Suvasa for some traditional block-printed kurtas and dupattas. Also, pearls of Hyderabad also act as great souvenirs to take back home.
Weather Conditions
The best time to visit Andhra Pradesh is during the winter season beginning from the month of October. Summer starts from March and lasts till the end of June in the state, making outdoor activities a little difficult. The state welcomes monsoon between July-September when it experiences excessive rains.
How to Reach
Travellers coming from international destination can land at the Begumpet Airport. Apart from this, domestic travellers can also land at airports like Vishakhapatnam Airport, Warangal Airport, Rajahmundry Airport, Vijaywada Airport, Tirupati Airport and Cuddapah Airport. In addition, the main railhead in this state is Hyderabad, which has three well connected stations located at Secunderabad, Visakhapatnam and Vijaywada. Andhra Pradesh also enjoys land borders with several states including Maharashtra in the northwest, Orissa and Madhya Pradesh in the north, Tamil Nadu in the south and Karnataka in the southeast.
Free Tour Customization
from Experts