Bihar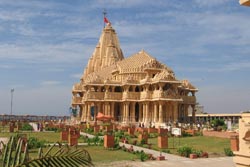 TheCulturally rich and historically flamboyant, Bihar is a prosperous Indian state. The state has a deep association with Buddhism and Jainism, which lure numerous pilgrims from all over the world. It is home to the holiest Bodhi Tree under which Prince Siddhartha meditated to attain enlightenment. Visit here and experience its wonderful past engraved in the monuments sprinkled here.
Here are the top places to visit in Bihar:
Gaya
Gaya remains the most visited place in Bihar due to its spiritual significance. This hub for Hindu pilgrims is situated on the bank of River Phalgu. One can see numerous Hindu temples and historical sites nestling around the river. Visit the majestic Mahabodhi Temple known for its architectural splendour. The Vishnupad Temple of Gaya is believed to be built on Lord Vishnu's footprints. To explore some unseen historical wonders, Dungeshwari Cave Temples are ideal choice. However, above all it's the Bodhi Tree of Gaya that remains the most visited site here. This is the place where Buddha attained spiritual enlightenment. Thousands of followers of Buddhism visit this place every year to meditate and attain nirvana.
Nalanda
Perhaps the oldest university in India, Nalanda is another significant place in the state underlining the Gupta and Pala period. It is believed that Buddha gave lectures near the mango grove in Nalanda. The popularity of this place is such that numerous Chinese travellers visit Nalanda and spend years here. Some of the major attractions of Nalanda include Nalanda Archaeological Museum, Xuanzang Memorial Hall, Silao, Surajpur, etc.
Munger
Often known as the seat of Bihar School of Yoga, Munger also remains highly popular among travellers due to its age old history. The history of Munger goes back to Aryans. The place is renowned among yoga buffs who visit here to learn the ancient art of yoga to attain a balanced body and mind. The place also houses numerous historic relics, including Pir Shah Nafah Shrine, Rameshwar Kund, Kastaharni Ghat, Dilwarpur, Munger Fort, Rishikund, etc.
Vaishali
A significant archaeological site, Vaishali is another spirituality oozing place in Bihar. It is said that this is the place where Mahavira was born. Another important event which was performed here was the last sermon of Buddha in 483 BCE. The history of Vaishali can be experienced in the form of well-preserved Ashokan Pillar standing here which bears inscriptions by King Ashoka. Vishwa Shanti Stupa of Vaishali was raised as a symbol of peace. Numerous structures have been raised around the stupa to pay tribute to Lord Buddha. Other must visit attractions of Vaishali include Abishek Pushakaran, Raja Vishal ka Garh, Bawan Pokhar Temple, Ramchaura Mandir, etc.
Patna
Beautifully placed on the southern bank of Ganga, Patna is the biggest city of Bihar state. The city is believed to be one of the oldest continuously inhabited cities on the planet. Being the birthplace of last Sikh Guru, Guru Gobind Singh, the city remains popular among Sikh devotees. Today, it is known for its ultra modern outlook with numerous high-end malls, hotels and MNCs. When it comes to attractions to explore, visit places like Golghar, Gandhi Maidan, Patna Museum, Didarganj Yakshi, Agam, Kumhrar, Gurdwara Pahila Bara, etc.
Shopping
Shopping in Bihar is all about hand-woven raw Tussar silk, Tikulis, Zari embroidery and Kashida work on fabric. The state's stunning Madhubani paintings portray the local cultures and are bought by all vacationers as souvenirs. These paintings show daily chores, flora & fauna and various mythological gods. Apart from these, one can also buy some bead-ornaments and local handicrafts from the range of stores found here.
Food
Bihar's local cuisine throws light on the state's cultures and traditions.  Litti Chokha (wheat and sattu with spices served with mashed boiled vegetables) is the most popular dish here. Also, try Chana Ghugni (boiled chickpeas fried with onion and spices) which goes great with tea. If you have a sweet tooth, Khaja (made by deep frying wheat flour, sugar and mawa), Kheer Makhana (roasted makhana cooked with milk and sugar) and Malpua (mixture of flour, milk, sugar and mashed bananas) are for you.
Weather Conditions
The best time to visit Bihar is between October and February as weather remains pleasant during these months. For the lovers of wildlife, summer months are great to visit Bihar. However, as the state experiences harsh summers, it is advised to stay well hydrated.
How to Reach
Jai Prakash Narayan Domestic Airport in Patna links the state with rest of the country. Railways also connect Bihar from the east to the northern parts of India. In addition to this, Express and superfast trains connect Patna, Gaya and other towns and cities in Bihar to other major cities of India. Road network of Bihar is vast and one can find numerous state run buses.
Free Tour Customization
from Experts