Punjab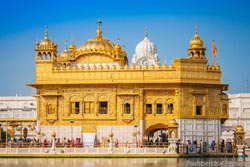 The most vibrant and happy state of India, Punjab is known as 'The land of five rivers'. This is the most fertile Indian state where one can see far stretched expanses of farmland. The locals of Punjab (Punjabis) mostly belong to the Sikh community where men can be seen wearing flamboyant turbans and women in colourful suits. Punjabis are deeply devoted to their cultures and take pride in their legendary history.
Here are the top places to visit in Punjab:
Amritsar
The most popular puller of Amritsar is Golden temple, the popular shrine of Sikhs. The temple complex has a man-made pool in which devotees take dip to wash away their sins. The sanctum of Golden temple has been overlaid with gold foil which makes it look like a bright shining star. History seekers must check out the Jallianwala Bagh of Amritsar where the British Indian Army fired into a crowd of non-violent protesters on 13 April, 1919. Jallianwalla Bagh still bears the marks of that horrific event in which over 379 people died and 1,200 were wounded.  Also, no traveller visiting Amritsar can ever miss out the exciting Wagah Border Ceremony, an impressive Beating retreat ceremony performed by soldiers of both India and Pakistan.
Chandigarh
The Garden city of India, Chandigarh is perhaps the best planned city in the country. The city is peacefully located in the foothills of the Shivalik range of the Himalayas. Rock Garden of Chandigarh remains a must visit attraction featuring interlinked causeways and exhibits made using waste material. Rose Garden is ideal for nature devotees having keenness for numerous species of roses. Pinjore Gardens also charm visitors with its palatial structures flaunting a mix of Rajasthani and Mughal styles of architecture.
Jalandhar
A prime commercial centre of the state, Jalandhar is an ancient city of Punjab. The Tulsi Mandir here remains the most visited attraction. The temple is dedicated to the wife of the demon Jalandhara, Vrinda. Imam Nasir Masjid, an 800 year old mausoleum, here also looks impressive.
Ludhiana
The Largest city in Punjab, Ludhiana also holds great importance in the history of Punjab. The Lodhi Fort here was raised by the Muslim monarch Sikandar Lodhi 500 years ago. It was once the residence of the great Muslim king, and today it highlights some important chapters of history. Punjab Agricultural University Museum depicts the lifestyle of locals here in the 18th and the 19th centuries with the help of artefacts. Gurudwara Charan Kamal of the city holds great significance among locals. It showcases a typical Sikh architecture and is known for an annual fair hosted in the month of December.
Patiala
This princely city was founded by Jat king Maharaja Narendra Singh. It was encircled by 10 gates from all sides. The city houses rich cultures which can be seen in its local streets. Qila Mubarak, an incredible specimen of the Sikh architecture, remains a must visit place here. It sprawls over 10 acres and houses numerous paintings depicting scenes from Hindu mythology. Sheesh Mahal is also adored for its huge number of frescoes. It was raised by the Maharaja Narinder Singh in the 19th century.
Food
Locals of Punjab are deeply devoted to food. Right from their breakfast to dinner, and even after that, they serve lip smacking dishes which can make anyone fall for gluttony. Tandoori cooking remains highly popular in the state. Locals love eating in Langar, served in most of the Sikh shrines. This is considered as a holy meal where pilgrims volunteer to serve meals to the visitors.  For non vegetarians, Punjab has a never ending menu. Try Butter Chicken prepared with rich spices and ample of cream. Amritsari chole brings water in everyone's mouth with its lip smacking taste and aromas. Chole-Bhature is perhaps the best breakfast as recommended by the locals here. Punjabis are crazy for Paranthas served with curd and achaar. Vegetarians can try Paneer Tikka, a grilled soft cottage cheese delicacy. Rajma Chawal is a staple food of the state cooked in every household. If you are visiting Punjab during winters, you must treat your taste buds with Sarson ka Saag served best with Makke ki Roti. End your food spree with a chilled lassi, a blend of curd, cream and butter.
Shopping
Shopping in Punjab is a sheer pleasure. The state is perfect to buy handloom and handicrafts which are sold in every local market. The local markets are decked up with the exhibits of jutties, durries, inlaid furniture, woollen shawls, parandis and phulkari work. Some of the popular markets like Rainak Bazaar in Jalandhar, Shastri Market of Chandigarh and Hall Bazaar of Amritsar are great to buy local attires at reasonable prices.
How to Reach
Amritsar, Chandigarh and Ludhiana are three main airports in Punjab. Among these, Amritsar is the only international airport of the state. Punjab boasts an extensive railway network that links the state with all the parts of India. Some of the major railheads of Punjab are located at Chandigarh, Ludhiana, Amritsar, Ferozepur, Jalandhar and Pathankot. The best way to explore the beauty of Punjab is by taking a road trip.
Free Tour Customization
from Experts