Karnataka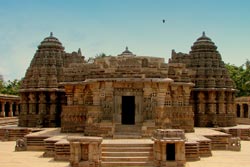 A tapestry of vivid cultures, history, flavours, landscapes and dance forms – Karnataka wins the hearts of millions with its majestic aura. The state houses 507 of the 3600 centrally protected monuments in the country. It is a paradise to unwind and refuel yourself amidst some immaculate beaches, sprawling tiger reserves and ruins of bygone era.
Here are the top places to visit in Karnataka:
Mysore
Steeped into history, Mysore brings out the rich past of India with some majestic historic masterpieces. Visit here to witness a perfect mix of old and new. Visit the grand Mysore Palace known for its majestic structure and ornamental interiors, including ornate ceilings, bejewelled corridors, open mandaps and stained glass windows. Jagan Mohan palace also charms millions with its rich history and predominantly Hindu style architecture. Also, visit the Lalith Mahal Palace built in 1931. It features a royal two-storey composition, which looks astonishing.
Belgaum
Belgaum brings out the cultures, history and beauty of Karnataka. It is known as an industrial town and houses some of the biggest universities. Some of the must visit attractions of the city include Belgaum fort, the Kittur Chennama Fort, Gokak Falls, the Doodh Sagar Falls, etc. Do not miss a chance to taste Belgaum Kunda, a popular sweet delicacy of the city.
Bellary
Bellary has experienced a long list of legendary rulers, including Mauryas, the Satavahanas, the Pallavas, the Kadambas, etc. Thus, the city brings to you a perfect fusion of old and new. It's barren, rocky landscape acts as a striking milieu to the eternal Hampi. The former capital of the Vijayanagara Empire, Hampi monuments spread over 4,100 hectares housing numerous royal and sacred complexes, temples, shrines, pillared halls, and memorial structures. The Bellary Fort here also remains a must visit for history lovers.
Mangalore
The Port City of Karnataka, Mangalore is all about swaying coconut palms, serene temples and unspoiled beaches. It is away from busy city life and takes you to some pleasurable destinations where you can unwind. Some of the major tourist destinations in the city like Mangaladevi temples, KREC beach, Someshwara beach, Panambur beach, Tannirbavi Beach and Seemanthini Bai Bajai Museum are ideal to understand the richness of Mangalore.
Some states of India are known for their serenity as they are still far-away from the modern layers. Visit Mizoram, Meghalaya, Manipur and Nagaland to experience a whole new side of India which is simple yet stunning, unique yet familiar.
Bangalore
The Garden City to the Silicon Valley of India, Bangalore is also a booming IT hub of India. It perfectly fuses past and present which can be seen in its cultures, lifestyle and attractions. Visit the grand Bangalore Palace to peep into the royal history of the city. Explore MG Road, the liveliest area here where numerous shops, restaurants and entertainment options are available. Lal Bagh is also loved here for bestowing some moments of serenity amidst bounty of nature.
Food
Traditional Kannadiga cuisine presents a fusion of rich flavours. Every region has its own distinct food. Mangalore is known for seafood, including spicy fish delicacies like kane fry. Rice is their staple food and is used for making red grain rice, sannas (idli fluffed with toddy or yeast), pancakes, rice rottis and kori rotti. Malnad cuisine also charms food lovers with dishes like midigayi pickle, sandige, avalakki (beaten rice) and akki rotti. The ubiquitous masala dosa is extremely popular in the state. Also, do not miss out Kodava cuisine which includes Pandi curry (pork curry) and Kadumbuttu (rice dumplings). Those having sweet tooth must relish chiroti, Mysore pak, obbattu and holige.
Shopping
Shopping in Karnataka is a pleasurable retreat where shoppers get to bag numerous things, including Sandalwood sculptures, Incense sticks, Sandalwood Oil, Metal Lamps, Wood Carvings, Ilkal Sarees, Bijapur Sarees, Mysore Paintings, Mysore Silks and Lambani Jewellery. Bangalore and Mysore are ideal places to bag shimmering silks.     
How to Reach
Karnataka houses 6 airports in Bangalore, Mangalore, Hampi, Hubli, Belgaum, Bijapur and Mysore, offering great connectivity to all the major destinations in India and outside. The state is also well linked with rest of the country with rail network. Those planning to visit Karnataka via road can hop on bus services provided by Karnataka State Road Transport Corporation.
Free Tour Customization
from Experts