Haryana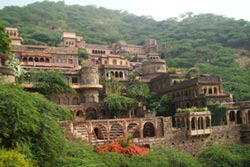 'The Abode of God', the state of Haryana is ideal to walk through some majestic places dripping in the waters of spirituality. The state has a legendary history which clearly shows in the cities dotted here. It is beautifully set in the foothills of Aravalli, which add to its natural exquisiteness. Today, it stands as an impressive Indian state with ancient temples, imposing architecture and abundance of greenery.
Here are the top places to visit in Haryana:
Chandigarh
Probably the best planned city in India, Chandigarh is also called as the city of gardens. It is a great place to experience a mix of historical wonders and modern edifices. Some of the top attractions here like Leisure Valley, Rock Garden, Morni Hills, Government Museum and Art Gallery, Shanti Kunj and Butterfly Park have earned it great popularity among family holidaymakers.
Gurgaon
The hi-tech city of Haryana, Gurgaon is the second largest city of the state. The city finds place in Mahabharata, and today it is known for being a booming corporate hub. One can find the best night clubs in Gurgaon to party till wee hours. Places to explore in Gurgaon include Sultanpur National Park Bird Sanctuary, Leisure Valley Park, Damdama Lake, Farrukh Nagar Fort, etc.
Kurukshetra
Kurukshetra is a renowned pilgrim place which served as the battleground of the famous Mahabharata war. This is the place where Lord Krishna preached Bhagavad Gita to Arjuna. Some of the must visit places in Kurukshetra include Brahma Sarovar, Sannihit Sarovar, Sheikh Chehlli Tomb, Dharohar Haryana Museum, Bhadrakali Temple, etc.
Pinjore
A serene town situated at 1800 feet above sea level, Pinjore is known for Pinjore Gardens, Asia's best garden of the 17th century. The Mughal Gardens here also lure historians and archaeologists from all over the country.
Morni Hills
The only hill station of the state of Haryana, Morni is a delight for tired souls. The lush greenery sprawling here is impressive and it gives you immense opportunities to partake in Boating and cycling. Do visit the beautiful Tikkar Taal Lake here to spend some time amidst nature.
Food
The food of Haryana is rich in locally made ingredients and underlines the simplicity of people here. Locals of Haryana prefer wholesome and fresh food for a healthy body. Haryana can be rightly titled as the 'Land of Rotis'. Milk products, homemade butter and ghee are highly consumed in the state. For those having sweet tooth gondh (edible gum) and laddus (a sweetmeat made of gram flour) are great treats. Also, to kill summer heat, a glass of chilled lassi is a must.
Shopping
Shopping spree in Haryana ranges from sky piercing shopping malls to old street markets.  One can buy stuff like "juttis" (shoes), "phulkari" embroidered clothing, woollen garments and hosiery and dhurries from here.
How to Reach
The main domestic airport of Haryana is in Chandigarh which connects it with Delhi, Mumbai and Leh. Train connectivity is also available. The easiest way to travel to Haryana is by road as the state boasts a great road network.
Free Tour Customization
from Experts