North India Wildlife Holidays
Ranthambore
Ranthambore National Park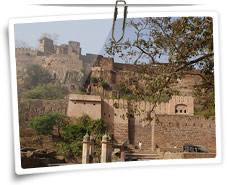 Ranthambore National Park offers a great opportunity to wildlife lovers to witness an enchanting drama of nature. The Sanctuary is famous for its tigers and a variety of other wildlife. It is located in the Sawai Madhopur district of Rajasthan. The Park was established as the Sawai Madhopur Game Sanctuary in 1955 by the Government of India, and came under Project Tiger scheme in 1973. Later in 1980 it became a National Park.
Ranthambore National Park is the only dry deciduous tiger habitat in the world. Once a hunting ground of the erstwhile Maharajas of Jaipur, now the Park is one of the famous wildlife destinations of India. Tourists from across the globe come here for a wildlife treat. Sprawling over an area of 392 sq km, the Park has a glorious history which reflects in its fort.
Wildlife in Ranthambore National Park:
Tiger is the main attraction of the Park. The other animals found here are leopard, dhole, wild pig, sambar, nilgai, chital, Sloth Bear, Jackals, Marsh Crocodile, Leopard, Gazzelle, Indian Hare, Porcupines, Jungle Cat, Sambhar, Chinkara, spotted deer, jackal, Mongoose, Nilgai, Wild Boar and Monitor Lizards and gaur. Black Buck is also found here.
More than 250 bird species have been recorded in the Park. Some of the important bird species found here are raylag Goose, Woodpeckers, Indian Gray Hornbills, Common Kingfishers, Bee Eaters, Cuckoos, Parakeets, Asian Palm Swift, Owl, Nightjars, Pigeon, Dove, Crakes, Snipes, Sandpipers, Gulls, Terns, Great Crested Grebe, Eagles, Darters, Cormorants and Egrets.
Reptiles such as Snub Nosed Marsh Crocodiles, Desert Monitor Lizards, Tortoise, Banded Kraits, Cobras, Common Kraits, Ganga Soft Shelled Turtles, Indian Pythons, North Indian Flap Shelled Turtles, Rat Snakes, Russel's Vipers, Saw-scaled Vipers and the Indian Chamaeleon are also the inhabitants of the Park.
Flora
Ranthambhore National Park also boasts of rich flora. Trees like Banyan, Dhok, Mango and Pipal are found in plenty here. The landscape of the park is dominated by shallow lakes, gentle slopes and plateaus.
Other Attraction:
The other attractions within the boundary of the Park are Ranthambore Fort, Jogi Mahal(a forest guest house), Bakaula region( a region of dense forest interspersed with several water bodies), Lakarda and Anantpura(the promising sites for sighting sloth bears), Raj Bagh ruins, located between the Padam Talao (lake) and the Raj Bagh Talao).
Getting around in the Park
The government organizes canter and jeep safaris twice daily, at dawn and early afternoon. Private vehicles are not allowed inside the Park.
Best Time To Visit
From October to March
How To Reach
By Air
Jaipur is the nearest airport.
By Rail
Sawai Madhopur district is well connected with Delhi, Mumbai and Jaipur by rail.
Accommodation
A variety of accommodation options are available near the Park. Some of the famous ones are The Sherbagh resort, Tiger den resort, Tiger moon resort, Vanya Vilas Resort, Ranthambhore Regency, Dev Vilas and Ranthambhore Forest Resort.
Free Tour Customization
from Experts