Arunachal Pradesh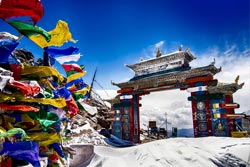 There are moments when nature stuns you to the core. You come face to face with places which seem unknown but still have a charm to hold you forever. And one such destination is Arunachal Pradesh - abode of the dawn-lit mountains. Blessed with charming mountains, uncharted passes, serene lakes and renowned monasteries – this Indian state has simplicity to die for. As you step into this wonderland, you are showered with remarkable array of flora and fauna, surrounded by unique glaciers, high rising meadows and sub-tropical forests.
Here are the top places to visit in Arunachal Pradesh:
Tawang
Tawang has a stunning geography with Tibet to its north, Bhutan to its south-west and Sela range to its West and Kameng to its east. The place grabs your soul with its unseen natural beauty. Being located 10000 feet above Mean Sea Level, Tawang has the perfect ambience to feel the silence of nature. It is known for housing the world famous Tawang monastery which is over 400-year-old. Sela Pass, a high-altitude mountain pass, is a spectacular location to visit here. You will be greeted by the beautiful Paradise Lake mid-way which adds to the fun quotient. You can also feed your senses with unique sights of Taktsang Gompa, an ancient monastery nestling with thick mountains.
Roing
Another popular place in Arunachal Pradesh is Roing located in the Lower Dibang Valley. The place charms nature devotees, archaeologists and adventure seekers having keenness for nature. The place is blessed with numerous lakes and waterfalls. Explore Mayudia flaunting a striking landscape with snow-blanketed mountains. Mehao Lake here also makes an ideal place to enjoy picnic amidst emerald forests beautified with stunning flowers and plants. If you are a wildlife lover, then the very famous Mehao Wildlife Sanctuary housing various wild animals, including tiger, leopard, jackal, Himalayan black bear and Indian porcupine, should be your choice.
Itanagar
No holiday to Arunachal Pradesh can ever end without visiting Itanagar, the state capital. With uncountable attractions such as Itanagar Wildlife Sanctuary, Ita Fort, The State Museum, Ganga Lake, Polo Park and a lot more, the city is a sure to lure treat. The city is known for its rich collection of museums underlining the city's rich heritage of the tribes. If you are a nature enthusiast, places like Ganga Lake and Polo Park can be your ideal picks.
Bomdila
If you wish to cherish some heart warming views of the majestic Himalayan mountain ranges, then a visit to Bomdila is must for you. Situated 8000 feet above the sea level, Bomdila is abundantly blessed with apple orchards and gorgeous surroundings. Visit the Sessa Orchid Sanctuary to explore over 200 species of orchids budding here. Eaglenest Wildlife Sanctuary lures numerous wildlife enthusiasts here with its stunning flora and fauna. Another eye-popping wonder of Bomdila is the Dirang Valley where numerous trekkers and bird watchers flock. In addition to this, local cultures of the place can be experienced by visiting the Bomdila Monastery established in the year 1965.
Ziro
A World Heritage Site, Ziro is headquarters to Lower Subansiri District. Apart from abundance of pine trees, Ziro valley is also known for attractions like Talley Valley Wildlife Sanctuary, Kile Pakho, Midey, Ziro Puto, Dolo Mando and a lot more.

How to Reach
Arunachal Pradesh doesn't have its own airport. The closest airport to Itanagar is Lilabari Tezpur airport in Assam. The airport is well connected to all prime cities of India. Those taking train journey can deboard at the Harmuti train station in Itanagar. The state also has an extensive road network linking it with all major cities and nearby states.
Free Tour Customization
from Experts