Sikkim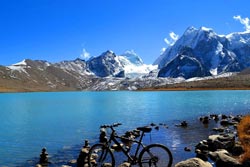 Cuddled affectionately by the majestic Himalayas, Sikkim lies in the North Eastern part of India. The state is known for uncountable tiny monasteries which add vivid colours to its outlook. The lifestyle of locals here is simple and showcases the deep roots of their cultures and beliefs. They are big hearted and have a beautiful smile adorning their distinct features. Sikkim is blanketed with a maze of steeping, super-steep valleys, lush woodlands and rich groves.
Here are the top places to visit in Sikkim:
Pemayangtse Monastery
This monastery is located around 140 kilometres west from Gangtok. It was laid by Lama Lhatsun Chempo in the year 1705. It is one of the oldest living monasteries of Sikkim where numerous monks titled as title "ta-tshang" can be seen indulging in meditation. The place is still the same till date and offers seamless peace and calm.
Kanchendzonga National Park
Sprawling over an area of 849.5 km2, Kanchendzonga National Park is situated at a height of 1,829 meters to 8,550 metres. This Biosphere reserve houses mixed forests of oaks, fir, birch, maple, willow, etc. Some of the commonly found animals here include musk deer, snow leopard, Clouded Leopard and Himalayan tahr.
Nathu La Pass
Nathu La Pass remains extremely popular among travellers due to its picturesque beauty. It is located at an elevation of 4,310 meters and has a dry alpine climate. The region is home to some endangered wild animals like snow leopard, Tibetan gazelle, Tibetan wolf, Tibetan snowcock, etc. The valley flaunts some of the most astonishing facets of nature which are hard to believe.
Tsango Lake
Tsango Lake, on the north of the Nathu La Pass, is a glacial lake. An inner line permit is needed to visit this 1 km long lake. The locals of Sikkim consider this lake as sacred as it is believed that in olden times Lamas (Buddhist Saints) used to look at the colour of the lake and predict future accordingly.  The lakeside also has a small temple dedicated to lord Siva. While the lake remains frozen during the winter months, numerous flowers bloom here between May and August.
Rumtek Monastery
Raised in the 16th century, Rumtek Monastery was established by the 9th Karmapa Wangchuk Dorje. Later in 1959, the 16th Karmapa came here and decided to rebuild the monastery. It is nestling with breathtaking views of nature and currently stands as the largest Monastery in Sikkim. It is home to the community of monks who can be seen performing various rituals here.
Namchi
The beauty of Namchi Hill Station cannot be described in words. This is an ideal place to get intimate with nature and understand indigenous cultures of the Sikkimese people. You can spot enchanting views of the splendid Mt. Kanchenjunga from here. The climate of Namchi is usually cool with temperatures of summer months ranging around 22 degrees. During winter months, temperature falls down to even 4 degrees Celsius.
Ravangla
Adorned with thick forests, Ravangla town assures one of the most gorgeous sights of the mountains. It is a renowned tourist attraction in Sikkim that lures many nature lovers every year. Trekkers start their trek to Maenam Wildlife Sanctuary from here which is a must experienced activity. Catch the glimpse of Himalayan birds apart from verditer flycatchers, blue-fronted redstarts, etc.
Food
Experience the combined flavours of Nepalese, Tibetan and native Sikkimese in this state's food. Food here showcases a perfect fusion of cultures which is hard to find anywhere else. Sikkimese are traditionally rice eaters. Also, try steaming Momos (dumpling with filling) to warm up yourself in winters. Thukpa, a Tibetan noodle soup, is loved by every local here. Phagshapa brings out the Sikkimese cuisine and remains a must try dish for pork lovers. Sha Phaley (stuffed bread) makes a perfect snack item. Sinki is another traditional dish made using radish roots.
Shopping
Shopping in Sikkim is all about picking traditional things made by locals only. Tibetan woollen carpets remain high in demand here. Thankas, depicting religion and shapes of flowers, are also sold in many shops. Tourists can also buy Choktses, small wooden ornate tables, made by local artisans.  Do not miss Dragon jewellery with dragons engraved designs. Apart from this, the Temi Tea Estate in Sikkim is highly popular for diverse variety of tea. Cardamom also grows here in abundance and is often purchased by tourists. Some of the major shopping markets here like Old Market, Lall Market, M.G. Road and New Market remain flooding with locals and travellers. Do not forget to use your bargain skills while dealing with shopkeepers.
How to Reach
Sikkim is not linked with rest of the world by air. The closest airport that travellers can access is at Bagdogra in West Bengal. From there, travellers can take 124 km taxi drive to Gangtok which usually takes 5 hours. Those who wish to relish panoramic view can hop on the helicopter that flies between Gangtok - Bagdogra – Gangtok. Sikkim doesn't have a rail network. The nearest railhead, New Jalpaiguri (West Bengal), is 125km away from Gangtok. Travellers can take the pleasure of a 114 km drive to Gangtok from Siliguri (West Bengal).
Free Tour Customization
from Experts