Goa Tour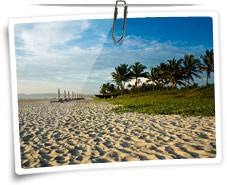 Synonymous With Leisure Holidays
If you think leisure means five or six hours of sleep at night, think again !!
Goa is not just about beaches or parties or carnivals. Goa has a flavour of leisure, beauty and celebration in its every aspect. A leisure trip to Goa is best suited for chilling out in peace and solitude. Goan coasts are quite popular for the picturesque vistas of sun, sea, sand and surf. These sun-kissed sandy beaches are among the most famous destinations in the world.
Relaxing Beaches
Plan your holidays in Goa at Baga, Anjuna, Calangute or any other beach in Goa. These attractive and highly frequented spots design a perfect canvas for sunrise and sunset. These beaches are perfect for relaxing or spending quality time with your partner. Apart from a number of adventure sports, one can also try out the dolphin-spotting trips and island tours here.
Partying While Leisure Holidays
Goa seeks for a reason to celebrate every day of the year. These beaches, night camps and tents are the best places to celebrate the golden moments. This party culture was introduced to Goa by the Hippies and the Portuguese, and it is still the most popular and most happening activity here. All the party freaks, who love to jump, skip and dances, drive down to Goa's moonlit beaches. When it comes to alcohol, the rules and regulations in the state are quite liberal. Therefore one can enjoy his/her desired drinks along with the Goan local 'Feni'.
Ayurveda And Spa
Centuries ago, 'Ashrams' were the places to seek health. People used to live under the guidance of saints and sages. Those ashrams were not luxurious, but they worked wonders together with Ayurveda, yoga and meditation. Later these ashrams were replaced by stylish and luxurious spas. These modern spas offer the same age old techniques, herbal medicines, yoga asans and medicated oil and powders to help you transform into a newer self.
Goa is emerging as a major health-holiday destination and spas/Ayurveda resorts play a key role in it. Almost all the Spa and Ayurveda packages include free consultation and guidance by the experts. The luxurious Spas and Ayurveda Resorts are well equipped with modern amenities and are spread in acres of lush green lawns and an unfettered sea view.
Other Activities
The entire state of Goa is dotted with various shops and stall selling Coconut Products, Cotton Thread Products, Sea Shells Products, Clay Products, Bamboo Products, Bric–a–Brac, Jewellery, Wood Artifacts, Lampshades etc. While on a leisure holiday in Goa, you must visit the market area or the shops along side the beaches.
The authentic sea-food, including fish, prawns, crabs, lobster, octopus etc., and the local alcohol drink 'Feni' is another best part of your trip.
Free Tour Customization
from Experts