West Bengal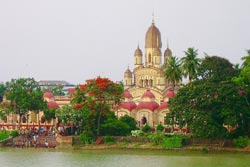 One of the most culturally rich states of India, West Bengal is all about blissful Baul music, women dressed in white and red saris, striped Bengal tiger, views of gigantic Khangchendzonga, a legendary history and some jaw dropping modern day wonders. With some of the most sought-after places to visit such as Darjeeling, Sundarbans, Kurseong and Kalimpong, West Bengal remains on the travel itinerates of every tourist seeking real India.
Here are the top places to visit in West Bengal:
Kolkata
The face of West Bengal, Kolkata is one of the oldest cities in India. This capital city is rich in modern Indian cultural, poetic and artistic lures. Many legendary movements took shape here and made it a historically rich city. The Howrah Bridge of Kolkata is a masterpiece and is known for being the sixth longest cantilever bridge on the planet. It suspends over the Hooghly River. Jorasanko Thakurbari is another caretaker of history where the ancestral Tagore family used to reside. It is now home to the Rabindra Bharathi University and a museum with exhibits depicting the life of the Tagores. Do visit the Park Street of Kolkata that remains buzzing with restaurants and pubs all night and day. The Indian Museum of the city is the largest and the oldest museum of India with 35 grand galleries flooding with antiquities, artefacts, paintings and mummies. History seekers must also visit Victoria Memorial, a museum dedicated to Queen Victoria. The museum has been made in Mughal and British architectural styles and houses 25 galleries.
Darjeeling
Renowned for its tea industry, Darjeeling is nestling with the lower Himalayas. The town has an old world charm which makes it culturally rich. Darjeeling Himalayan Railway remains the main attraction here also known with the name of the 'Toy Train'. The Darjeeling Himalayan Railway is a UNESCO World Heritage Site and offers a beautiful train journey amidst sprawling landscapes. Wildlife enthusiasts must visit the Singalila National Park and Padmaja Naidu Himalayan Zoological Park housing some rare and endangered species of animals. Also, spend some moments of peace while gazing at the setting sun at the very beautiful Tiger Hill.
Bankura
A pleasurable retreat for nature devotees, Bankura is all about relaxing amidst ample of nature. Travellers visit here to unwind their soul and explore the most magnificent sites of forests, temples and festivities of the region. Jhilmili is perhaps the most beautiful place to fall in love with Bankura at once. The forested area is an ideal place to rejuvenate and experience some unseen facets of nature. Also visit the spectacular looking Gokul Chand Temple having spiritual as well as historical values. The temple fort stands 64 feet high and looks impressive in architecture.
Siliguri
A trip to Siliguri promises you astonishing sites of temples and tea gardens. Siliguri houses a range of attractions under its horizon. Start with the very popular Kali Mandir, a Hindu shrine dedicated to Goddess Kali. Chilapata Forest also lures many nature devotees with its bounty of flora and fauna. It houses a beautiful forest bungalow where a peaceful stay can be enjoyed.  History lovers must also explore the Nalraja Garh which is a 2000 year old fortress built inside the dense forest.
Midnapore
 A delight for wanderers, Midnapore is an old-fashioned town with untouched natural vistas. Visit the very beautiful Jora Masjid of Midnapore flaunting ancient Islamic style of architecture. The mosque is a significant one and is visited by thousands of devotees. Kali Temple also holds great religious significance in Midnapore. With its stunning architecture and beautiful location, it is visited by many people throughout the year.
Murshidabad
Murshidabad has a great historical significance as it was once the capital during the Mughal rule.  It still mirrors history of this place with some prominent places like the very majestic Hazaarduari Palace. This palace was built in the 19th century. Today it has been transformed into a museum with exhibits belonging to the times of the Nawab rule. The largest Imambara in India, Nizamat Imambara also looks impressive due to its old world appeal. It was constructed by Nawab Siraj-ud-Daulah. The original structured was destroyed twice and later in 1847, a new shrine was made. Other must visit places in Murshidabad include Khushbagh, Katra Mosque, etc.
Food
The food of West Bengal is very traditional. Most of the locals here are in love with Luchi alur dom made of potatoes. Keemar Doi Bora is also cooked in every household made with a combination of minced meat and sweet and spicy curd. Also, do try out the delectable Kathi Rolls stuffed with meat kebabs. Jhal Muri is another common street food in West Bengal made using rice flakes mixed with spicy chutney. For the lovers of mutton, tasting Kosha Mangsho is must. The locals of the state have a deep fascination for fish which is made on every special occasion. Try Ilish Maach made with deep-fried Hilsa fish. It will not be wrong to say but this state is in love with sweets. Sweets like Rasgullas, Chamcham and Sondesh grace every occasion celebrated here.
Shopping
West Bengal is highly popular for its arts and crafts such as clay, conch, shoal, conch-shell, jute, etc. Also, no traveller visiting here ever misses the chance to bag authentic Bengali silk saris and Batik work Saris which look extremely traditional. Also look for fabrics with Kantha, Chikan, Kashida and Zari work which can be turned into beautiful Indian outfits. Kolkata has numerous places to shop around such as Bara Bazaar, Esplanade and Gariahat. Jute grows in West Bengal and thus, jute fabric and handicrafts remains very popular among locals.
How to Reach
The international airport of West Bengal is located in Kolkata (Netaji Subhas Chandra Bose International Airport) that offers regular flights from Europe and the Orient.  The airport is also connected to all the major Indian cities, making domestic travel easy. Also, those planning to visit West Bengal by train can get down at the Howrah railway station and Sealdah railway station in Kolkata. Roads of the state are also well planned and thus, road travel to West Bengal also offers great pleasure.
Free Tour Customization
from Experts