Telangana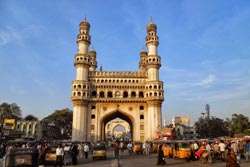 Telangana is a newly made Indian state founded on 2 June, 2014. It was earlier part of Andhra Pradesh only. The most majestic lure of Telangana remains Hyderabad housing some splendid domes and minarets of prehistoric mosques, mausoleums and fortress.  The state embraces a rich history and cultural heritage which entice travellers to Telangana from far and wide.
Here are the top places to visit in Telangana:
Hyderabad
Hyderabad remains the most popular gem of Telangana. The city paints a perfect contrast of old and new. Visit Charminar, a popular historical landmark here. This monument was raised by Mohammed Quli Qutub Shah in Cazia style architecture. The monument features a mosque on top floor since 400 years. It features a square structure with four grand arches and minarets which are 56 meters high. The monument remains crowded by locals and travellers as it is a focal point for all festivals and other celebrations. Golconda Fort also attracts history lovers. The fort was built during the Yadava Dynasty and was later passed on to numerous dynasties. The most amazing fact about this fort is that if you clap at Fateh Darwaza, the sound can be heard at Bala Hissar which is a kilometre apart from each other. Makkah Masjid of Hyderabad is over 400 years old and remains the centrepiece of the city. The mosque is considered as highly significant as it was constructed from the soil especially bought from Mecca.  Salarjung Museum is also loved by history enthusiasts to spot some stunning collections most of which belong to Mir Yousuf Ali Khan. From Indian sculptures to bronze statues, Persian carpets and Chinese porcelain, there is no dearth of exhibits here.
Warangal
This city features a glorious past. It has immense natural beauty as well as exotic man made wonders. Warangal Fort, a 13th century fort, catches the fancy of visitors with its exquisite carved pillars and arches. The main fort features 45 towers and it houses numerous ancient stories. Thousand Pillar Temple of Warangal looks jaw dropping with its Kakatiyan architectural style. The temple has three prime deities, including Shiva, Surya and Vishnu. The temple captivates the attention of all with its beautifully adorned thousand pillars.  To spend some moments of peace, Pakhal Lake nestling with lush forests and hilly terrains is a must. Other popular places to visit in Warangal are Kakatiya Rock Garden, Kakatiya Musical Garden and Bhadrakali Temple.
Nizamabad
If you are fascinated by cultures of a place, then Nizamabad is an ideal pick for you. The city houses numerous attractions blending together history and cultures of this place. The historic Nizamabad Fort here was constructed during the 10th century and was ruled by numerous dynasties. It also houses a temple featuring grand corridors, mundaps and the mahamundaps. Other major attractions of Nizamabad include Pocharam Wildlife Sanctuary, Archaeological and Heritage Museum, Pochampad Dam, etc.
Karimnagar
The fourth largest city of Telangana, Karimnagar brings to you a cultural extravaganza dripping from its forts. Some of the significant forts here such as Elgandal Fort, Jagtial Fort and Ramagiri Fort are proud caretakers of history. It also has an impressive flora which can be cherished by visiting Ujwala Park and Rajiv Deer Park.
Food
Food of Telangana is usually spicy. Hyderabadi Biryani (a rice dish) remains the most delicious dish of the state served in two variations - Kachchi gosht ki biryani and Pakki biryani. Sarva Pindi (made using rice flour, chana dal, peanuts and chilli) remains a healthy option for breakfast. For some tea time snack, Sakinalu (made with rice and sesame seeds) remains the best pick. For the lovers of non vegetarian food, Golichina Mamsam is a lip smacking dish made with mutton cooked in locally grown spices.  For some sweet dish, Malidalu is a great option. It is made using chapathi pieces grinded with jaggery, cashews, pista and ghee.
Shopping
Shopping in Telangana takes you close to its local cultures. You can pick from a varied range of rare, exquisite, handicrafts, saris and textiles. Shilparamam is a great place to please the shopper inside you. It is set up in Madhapur, Hyderabad, and sells Indian arts and crafts, woodwork, cloths, jewellery, etc. Laad Bazaar is another great place ideal for buying vibrant looking bangles displayed in over 350 shops lined up here. Also, one can find numerous shops selling embroidered fabrics, traditional Khara Dupattas, and perfumes here.
How to Reach
Rajiv Gandhi International Airport in Hyderabad is a major international airport connecting the state with rest of the world. Hyderabad also enjoys great rail connectivity with all other major Indian cities. Frequent state run and privately owned buses also run from Telangana to all parts of India.
Free Tour Customization
from Experts