Daman and Diu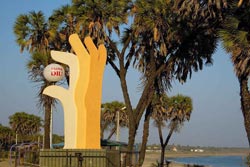 For over 450 years the union territory of Daman and Diu was ruled by the Portuguese. Later in the year 1987, Goa became a separate state after which Daman and Diu became a single and distinct union territory. These two districts house numerous buildings and monuments featuring a unique Portuguese styled architecture. Visiting here is like turning the pages of Indian history where you learn about some astonishing facts about the legendary past of India.
Here are the top places to visit in Daman and Diu:
Fort Jerome
This fort, situated at the North side of Damanganga River at Nani Daman, was raised to keep a watch on the sea activities. The fort houses a statue of St. Jerome at the main entrance. The main lure of this historic wonder is the Church of Our Lady of the sea which looks spectacular with its Portuguese style architecture. The solid walls of the fort are over 4 centuries old; however, they still stand high with pride.
Bom Jesus Church
Bom Jesus Church flaunts an astonishing roman styled architecture, which lures many travellers to this masterpiece. The church houses 6 stunning statues of the Saints. Its altar features carved wood decor which is a superb specimen of the Portuguese artisans. Also, explore its ceilings adorned with murals and skilfully carved gateways, which add to its spectacular beauty.
Zampa Gateway
Zampa Gateway is the entry point to the District of Diu. The gateway was made during the medieval era which clearly shows due to its distinct architecture. Its walls have been beautified with intricate designs of lions, priests and angels. As you enter the gateway, you see a chapel belonging to 1702 Ad. This well designed monument looks beautiful and adds to the popularity of the Zampa Gateway.
Lighthouse
Located at the Daman Ganga Bridge, this lighthouse was constructed during the Portuguese era. This major landmark in Daman guides sea traffic. This lighthouse is part of a majestic Fort which is itself a treat to savour. The fort houses a total of 10 bastions and its surrounding nature makes it look even more spectacular.
Jampore Beach
One of the most alluring beaches of Daman, Jampore Beach is ideal to spend some time under the sun. The beach is great for swimmers who wish to relish its calm waters. Also, as it is not very crowded usually, one can enjoy romantic strolls along the coastline. Numerous photographers can also be spotted around the beach looking for perfect moment to capture the nature residing here.
Devka Beach
This is another picture perfect beach in Daman renowned for its perfect hues of saffron. Though the beach is not recommended for swimming or other water activities, travellers can surely enjoy walking around while gazing at the horizon. The beach also houses an amusement park and a musical fountain, giving ample opportunities to family vacationers to have a whale of a time.
Nagoa Beach
A stunning semi-circle beach, Nagoa Beach is all about tranquil waters and white sands. It remains a favourite pick among couples seeking a paradise to escape crowds. Its crystal clear waters are ideal for various water sports and thus, it is visited by numerous adventurers as well.
Food
Daman and Diu flaunts a mix of Indian, African, European and tribal cultures which can also be seen in the food served here. Street food eateries here serve pao bhaji, bhel and chaats. Jetty Roll remains a popular dish here which is just like Kathi kebab rolls. For evening snacks, locals enjoy Papri. Diu is more popular for its sea food, including lobster, fish and crabs.
Shopping
Daman and Diu remain popular for interesting shopping opportunities available here. Shopping here is not just like any other shopping spree. It is more about exploring the local cultures and meeting the locals. The Princess Park and the Maharajas Super Market make are ideal places to shop local artefacts made of oysters and shells. Hand woven bamboo mats and baskets also remain popular here.
How to Reach
Chhatrapati Shivaji International Airport (Mumbai) is the closest domestic and international airport to Daman and Diu. Also, Vapi railway station is the nearest railway station to Daman located at a convenient distance of 12 Kms. Those visiting Diu can deboard at the Delwada railway station. Daman and Diu enjoy a good road connectivity and thus, one may find numerous bus services to reach here from Ahmedabad, Vadodara, Mumbai, etc.
Free Tour Customization
from Experts