Meghalaya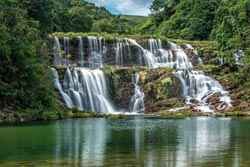 Dividing the Assam valley from the plains of Bangladesh, Meghalaya remains one the most priceless gems of North East India which is loved for its diverse natural beauty. Travellers visit here to delve into the enchanting mix of cultural and natural wonders which is hard to find anywhere else. It is perhaps the only destination which can be visited during any time of the year as its charm never fades. This abode of clouds brings to you an enchanting mix of tribes, including the Jaintia, Khasi and Garo.
Here are the top places to visit in Meghalaya:
Mawlynnong Village
Voted as Asia's cleanest village, Mawlynnong Village in Meghalaya seems like a paradise on earth. It is amazing that one cannot find even tiniest piece of straw here. Roads of this town are clean and extremely beautiful looking. The village is known for its live root bridge which remains a major attraction here. This is perhaps the most serene village on the planet where even the winds bestow an unearthly vibe.
Laitlum Canyon
Nothing can be as pleasurable for trekking enthusiasts as visiting Laitlum Canyon. This place offers you the best trekking expeditions in the north east. It is not for novice trekkers as the terrain is difficult and requires skills. You get to explore the best panoramic view of Meghalaya as you reach the top. Spotting sunset and sunrise view from the top is an enchanting experience.  
Double Decker
The Double Decker Living Root Bridge is situated in Cherapunjee which is known as the rainiest place in India. Meghalaya is renowned all over the world for its uniquely formed natural bridges which are visited by people from all over the world. Trek to this place gives goose bumps even to the most adventurous souls as one needs to complete around 2000 slippery steps.  However, people still come to visit this exceptionally beautiful place which has an unmatched beauty.
Ialong Park
The Ialong Park is located around 10 kms from Jowai. This place is a sheer gem where people come to relax and rejuvenate their senses. Visit here to grab enthralling vistas of Myndtu River and valley which look like never ending expanses of emerald blanket. To make travellers have a whale of a time, numerous fun activities have been planned here where people of all age groups and likes can enjoy.
Balpakram National Park
Balpakram National Park is ideal if you are devotee of Mother Nature. The park has a flourishing variety of flora and fauna which cannot be seen anywhere else. One can spot numerous canyons and gorges here and some heart warming views of Tanguar Haor in Bangladesh. Locals of this place take pride in the natural beauty sprawling here and love to guide the travellers through some unbeaten paths. One can also spot about 8 varieties of feline predators and internationally intriguing red pandas here which are a sight to behold.
Don Bosco Center Indigenous Cultures
Experience a melange of vibrant culture and tradition of Meghalaya by visiting Don Bosco Center Indigenous Cultures. This museum is a masterpiece of creativity as it beautifully exhibits information on the states of Assam, Meghalaya, Manipur, Mizoram, Arunachal Pradesh and Nagaland through diverse exhibits.
Elephant waterfalls
Only 12 km from Shillong, Elephant waterfalls are peacefully located close to the Shillong Peak. Khasi locals call them with the name of 'Ka Kshaid Lai Pateng Khohsiew'. These are basically a 2-tiered rugged waterfall nestling with abundance of abundance of greenery. Visit here to explore successive falls which cascade from mountains on rocky steps. It is an ideal place to plan a day picnic amidst nature at its best.
Umiam Lake
This lake in Shillong is frequented by both nature lovers as well as adventure enthusiasts. Water of this lake is extremely pristine and clear. It is an ideal place to delve into adventure as one can partake in numerous fun activities here, including speed boating, sailing, kayaking, water-skiing and rowing.
Food
Food of Meghalaya is deeply rooted to the state's rich cultures. It brings to you an assortment of flavours which cannot be found anywhere else. Try Jadoh red which is rice cooked with pork meat. Doh-Khlieh, a delicious salad, is also cooked in every household. There is a tradition of serving soups before meals in Meghalaya and thus, Nakham Bitchi, made with dry fish, can be seen in every household. Rice remains the staple food of the state and is thus, consumed in many forms. Pumaloi remains a popular rich dish. Also, those who love sweets must taste Pukhlein (a sweet rice dish) and Sakin Gata (rice mixture and roasted sesame seeds).
Shopping
Shopping in Meghalaya is all about mingling with locals, understanding their cultures and buying some beautiful handicrafts. Lewduh market is the biggest market in Shillong where plenty of handloom and handicraft items are found. Police Bazaar remains popular during evening hours where numerous shops, multi cuisine restaurants and hotels are lined up. No traveller visiting Meghalaya ever misses a chance to buy Naga and Manipuri shawls. Scottish Dress Materials also make great souvenirs. Khasi scrub is also a must buy here which is sold in almost every shop.
How to Reach
Closest airport to Meghalaya is located in Guwahati (Assam). The airport is linked with all major Indian cities apart from international cities of Tura and Bangkok. Nearest railway station to the state is located in Guwahati (Assam). Also, one can easily access the state via road as road network here is well maintained.
Free Tour Customization
from Experts