Mizoram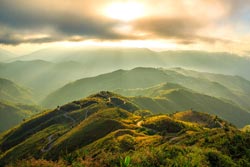 A lesser known gem of North-Eastern India, Mizoram is far away from the fake layers of glitz and glamour. The state has been blessed by the almighty with a diverse range of topography which gives human soul an opportunity to explore the unexplored. From the sprawling landscape of Phawngpui Hills to cascading Vantawang Falls, and from serene Palak Lake to heritage sites at Chhingpui – one needs a whole lifetime to cherish the wonders of this paradise.    
Mizoram is also densely populated with the tribal population. People of these tribes can still be seen in their traditional outfits, living a very simple life. Some of the popular tribes like Dulien, Ralte, Poi, Jahao, Pankhup, Lakher, Paite, Falam, Tangur, Khuangli, Dalang and Sukte can be seen residing in tiny villages, indulging in their local festivals and making of handicrafts.
Here are the top places to visit in Mizoram:
Aizawl
The biggest city in Mizoram, Aizawl is also the capital city of the state. Setting of this city is extremely priceless as it is located at a height of 1132 m above sea level. Cultural richness of Aizawl is awe-inspiring as locals here still follow their age old traditions by heart. To start with visit Tamdil Lake, the largest lake in Mizoram. People visit here to spend a day picnic while indulging in bird watching and boating. KV Paradise, renowned with the name of the modern Taj Mahal of Mizoram, is a beautiful three storey mausoleum. Wildlife enthusiasts must explore the Khawnglung Wildlife Sanctuary housing sub-tropical and semi-evergreen forest. Some of the commonly seen animals here include Tiger, Sambar, Barking Deer, Serrow, Hoolock Gibbon, etc. Durtlang Hills and Vantawng Falls also remain popular for their astonishing natural exquisiteness adorned with waterfalls, craggy peaks, and a rejuvenating ambience.
Champhai
Champhai is blissfully located at an altitude of 1678 m. This place showers you with impressive vistas of Myanmar's hill ranges and is often termed as the Fruit Bowl of Mizoram. One can see numerous ancient relics and monuments here which narrate stories about its past. Some of the top places to visit in Champhai include Rih Dil Lake, Phawngpui Peak, Lengteng Hills, Murlen National Park, etc.
Lunglei
Lunglei is the second largest city in Mizoram. It earned its popularity due to a rock which looks like a bridge. This is perhaps the best place to explore the whole state from a bird's eye view. Travelers visiting here are greeted with imposing hills, verdant greenery and prosperous cultures.
Serchhip
Serchhip has a beautiful location between Mat and Tuikam Rivers. Serchhip houses Mizoram's highest waterfalls and also the 8th highest mountain. Thanks to the diverse topography of the place, one can find some of the most endangered species here. Serchhip's Thenzawl town is known for a thriving handloom industry where local craftsmen indulge in the making of traditional items.
Lawngtlai
Lawngtlai district is untouched from the modern world. It has been preserved beautifully with dense unexplored forests. This is definitely a place to enjoy the most spectacular vistas of nature which make many jaws drop. Some of the must visit places here include Vengpui Peak, Lohawka Wildlife Sanctuary, Sinemon Wildlife Sanctuary and Ngengpui Wildlife Sanctuary.
Food
Though Mizoram remains away from the claws of outside world, its food makes it stand out of the herd. Food of the state brings to you a melange of North Indian and Chinese elements. You can see simple dishes presented in the most beautiful way which leave an everlasting flavour on your tongue. Taste Bai, made with locally found herbs and spices, is a must try dish. Koat Pitha, a fried dish with rice flour and bananas, is also cooked in every household. For the lovers of non vegetarian food, Vawksa Rep, a pork dish, is ideal. For vegetarians, Bamboo Shoot Fry made with bamboo fried and tossed with herbs, is ideal.
Shopping
A shopping spree in Mizoram treats you with some authentic handicrafts made by local craftsmen only. They project their cultures through these handicrafts which make them even more beautiful. Bara Bazaar remains the most popular market area where all kind of handicraft and handloom items can be found. Other markets such as New Market, Ritz Market, Bazar Bungkawn, Thakthing Bazar, Burma Lane and Solomon Cave can also be explored.
How to Reach
Aizawl city houses a domestic airport which links the state with rest of the country. The state is linked through its rail head in Bairabi in Kolasib District. One can also take road travel to Mizoram which bestows a unique experience as one gets to see beautiful landscapes during the journey.
Free Tour Customization
from Experts