Leisure / Holidays
Kerala
Kerala Tour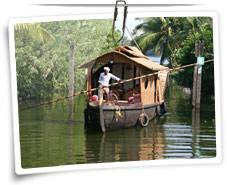 Get Revitalized To The Hilt
According to the popular perception leisure means staying at home and wishing that the entire world forgets that you even exist. But you can give a different and a more meaningful definition to leisure by stealing a few days from your busy schedule and dedicate them to a 'trip to Kerala', the God's own country. It is the perfect place for slipping into the lap of leisure and enjoy it to the hilt.
Offering rejuvenating and refreshing holidays, Kerala is a famed destination offering a lot of attractions to choose from. The backwaters and beaches experiences combined with Ayurvedic massages makes a wonderful package for those who are craving 'perfect leisure'.
The beaches of Kerala are famed the world over for their sheer beauty. They are a big hit with tourists from across the world. How wonderful the experience is to treat your senses to the soothing sights of the coconut and palm fringed beaches. At the beaches one can even enjoy sun bathing, swimming and other activities. Other wonderful attractions at the beaches are the historic monuments and temples. Take a stroll at the beaches to enjoy overwhelming sunset views and make your evenings memorable. Some of the famous beaches of Kerala are the Kovalam beach, Alappuzha beach, Beypore beach and Kappad beach. Take your pick!
Kerala and Ayurveda are inseparable. The people here are have great devotion towards Ayurveda. To get yourself refreshed to the core do indulge in Ayurvedic massages. The masseurs in the popular resorts of Kerala have long perfected the art of pampering the guests with the rejuvenating massages. Some of the famous Ayurvedic resorts in Kerala are Dhanwanthari Ayurveda Vaidyasala in Kottayam, the Sukhodaya Pharmacy and Research Centre in Kottayam,the Coconut Lagoon in Kumarakom and Spice Village in Periyar, Somatheeram Ayurvedic Resort in Kovalam, Keraleeyam Heritage Home and Ayurvedic Resort in Alleppey and Kairali Ayurvedic Health Resort in Palakkad.
Kerala is famous the world over for its sheer scenic beauty, which can be best experienced on its houseboat cruise. The backwaters surrounded by lush green vegetation offering a lovely environment to relax and spend some quality time with nature. Houseboats floating gently on backwaters transports, cool and refreshing air passing across your face, palm trees dancing to the tune of breeze. What a great sight! And how great it would be to stay in such a houseboat!
Free Tour Customization
from Experts